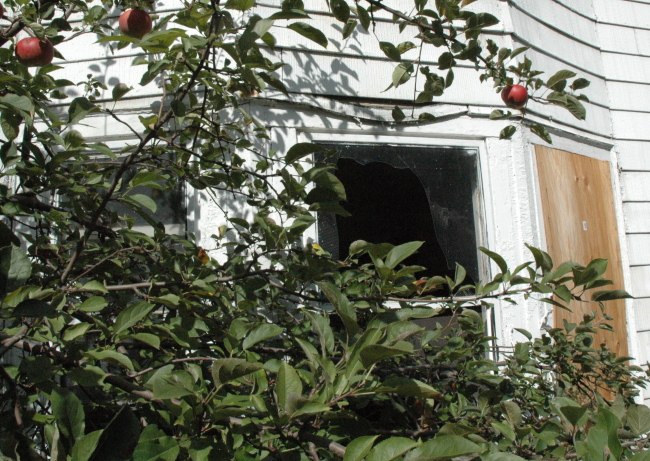 Apple tree by board-up on Terrace Drive, East Cleveland
Until I started brainstorming about local foods with City Fresh's Maurice Small [1], I never thought about the industry of food, and how much more sense it makes to grow and produce food for a community within the community - food for a home within a home. Considering taxpayers pay government to maintain huge amounts of "public space", why is that space usually planted at our expense with grass and trees that do not produce food, when it would be less costly to make these lands farms, creating industry for individuals and feeding them in the process? It seems to make such sense. But then I stumble upon something that makes even less sense than not growing food, which is seeing fruit ripening on a tree in a place where people can't afford to eat well, and people not reaching up to pick the free food and eat it... seeing hundreds of good apples rotting on the ground. That shows us how far we have strayed from a sensible society, and how much we need to change. Everything.

Here are a handful of the same fresh, tart, juicy, delicious apples, ready for eating at home, providing good free food for my family when we would have had to spend $1.00-$1.50 a pound at the grocery store, where the apples would be older and probably from another state or country... not to mention factory farmed, by underpaid labor, and sprayed with poison. The movement toward growing and eating local healthy food is critical to the future of our economy and national health. It shall transform the most blighted places and most troubled lives for the better. That is a movement toward global sustainability through environmentalism, social justice and good public health, against the interests of many industries. Change to believe.