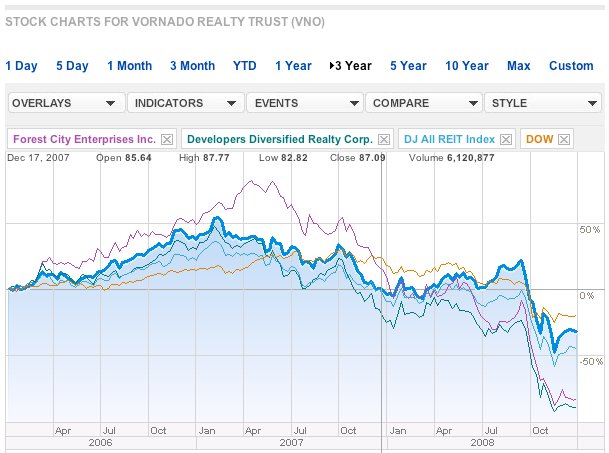 Jeff Buster's poll on REALNEO asking "If Peter Lawson Jones immediately withdrew his support for the Medical Mart Convention Center would his public career benefit? [1]" motivated me to spend the time to explore the probability the MedCon is already dead, and our leaders will let us know that when they return from their vacations... and get the nerve. What do you think?
The chart above is the three year stock performance of Vornado (blue shaded trend line), the Real Estate Investment Trust (REIT) that owns The Kennedy's old family Merchandise Mart enterprise and is supposed to invest in the future of our community -- which is all in deep financial trouble.
Since early 2007, Vornado has seen it's stock value plummet [2] lower than Cleveland - from a high of around $136 to the current value of about $55, losing 60% of its previous value. In reviewing Vornado annual reports, it is clear the Merchandise Mart line of their business is non-core, and not producing as well as their other holdings. In these difficult times, Vornado leadership says, they are focused on their core.
Vornado CEO, President and major stock-holder Steven Roth has followed banks and automakers to congress to ask for bail-out money for his failing industry - "commercial real estate", in this case dressed as Real Estate Investment Trust. At the same time, he has insider-traded his way through 100,000s of shares of Vornado stock, profiting in the $10,000,000s, as outside investors have lost fortunes. This all before the commercial real estate sector and especially the retail sector melt-down, after the post-holiday blow-out. After the shakeout from the current economic cycle, we will see how vacancies and tenant bankruptcies effect REITs' bottom lines. Expect the worst.
Vornado is not the only concern, here, with REITs and the MedCon. This chart also shows the performance of Cleveland's own Forest City Enterprises, also a REIT, which is proposed to build us the Convention Center and the Medical Mart, and which is performing far worse than the horrible performance of Vornado - Morningstar has rated their stock as worthless [3]!
From the Analyst Report: "At nearly 83%, Forest City's debt/total gross PP&E is much higher than peers'. With EBITDA/interest expense expected to dip below 1 times during the next three years, Forest City could face severe financial distress, since it may need to refinance debt at ever-increasing interest rates while operating cash flow declines."
Equally shocking is the poor performance of Beachwood's Developers Diversified, chaired by Scott Wolstein, which does not appear directly involved in the MedCon, but must answer for the demolition of the East Bank of the Flats, and other offenses against our economy... and explain his poor leadership to shareholders, as he has extracted $ millions through insider trading for himself.
From a Business Week analysis of insider activity at DDR:
"The goals of DDR insiders are aligned with those of shareholders because insiders own an above average percent of this company relative to other companies in the Real Estate Investment Trusts (REITs) industry. The 2,358,456 shares they control represents 2.41% of the total outstanding shares. However, over the last 3 months, insiders have sold a net 190.6K shares. This is in stark contrast to the 2-year quarterly average net purchases of 69.0K shares and may provide some indication that insiders are less bullish than they have been in recent times."
Bottom line is that these three "enterprises" and most REITs are at risk of complete failure, and they're going to Congress for bailouts.
It is certain the worst in this investment sector will go the way of the worst in other shady investment sectors, in the coming months and years, meaning many bankruptcies and consolidations. An excellent explanation of what to expect is found in a letter to the editor of the Wall Street Journal [4] in opposition to any bailout of the REIT sector:
I read with disbelief that commercial-property owners are grubbing their way into line for relief funds ("Developers Ask U.S. for Bailout as Massive Debt Looms [5]," page one, Dec. 22). The notion that the likes of Vornado Realty Trust or the Related Cos. would beg for public funds to bail out overleveraged income-property owners would be funny if it weren't so disturbing.

Unlike residential borrowers, most commercial landlords don't live in their buildings, and unless they are pleading stupidity, they understood perfectly, as did the lenders themselves, that the loans they were seeking from overeager conduit and securitization lenders were too generous. They decided to roll the dice and got rich with these cheap and easy funds. Now they are asking their formerly rich Uncle Sam to bail them out as their loans come due.

As the founder and former head of Deutsche Bank's commercial lending unit, and former senior trader of CMBS and commercial loans for Goldman, I am well aware of the perils of letting commercial-property borrowers fail: Either their lenders will have to extend them new terms, or they will face bankruptcies and tax recapture issues. Their bankers or securities holders will have to take losses and new investors will get to buy their holdings at deep discounts. Any other solution would be a travesty. The only thing more startling about the suggestion that the Treasury bail out the likes of William Rudin, Stephen Ross and Steven Roth is that they had the nerve to raise it. Washington should focus on making REMIC and securitization laws more flexible to allow extensions of loans or collateral substitution, not giving America's credit-drunk landlords and real-estate bankers a mulligan on the taxpayer dime.

Mike Offit
New York
85% of realneo members believe [6]the MedCon has been a con from the beginning [6]. We've been core to fighting the tax increase to pay for the Con [7], and we've challenged every step of the process, which has cost somebody... it seems Cuyahoga County taxpayers... $100,000s in direct costs [8], not to mention $1,000,000s in opportunity costs of not supporting better initiatives that may have received attention and funding, had there not been the huge sucking sound of this MedCon Silver Bullet headed right for between any opposition's eyes.
Now, several deadlines missed, with all major local real estate development plans aborting, leadership laughable, and $10,000,000s of public tax revenues in limbo, unreal NEO still pays into a pot that seems so tarnished and battered as to not hold any water at all - may we please declare the MedCon dead and get on with some serious investigations into the causes, and serious law suits, and better planning for the future of our economy.
In the certainly horrific current economic climate, with the high level of uncertainty about the economy ahead, and with the certainty of a new President and so new era of urban redevelopment policy about to begin, and certainty the Northeast Ohio economy is still in a downward cycle, and certainty the strategies put in action over the last five years to counter our economic downturn have underperformed, and certainty those who devised our current economic strategy have failed, and certainty all enterprises proposing the MedCon are failing financially, it is safe to say the MedCon is already dead, and the PD just hasn't figured out how to position the failure as a Cleveland+.
Peter Lawson Jones will be stuck explaining the outcomes to the pubic, and he will have the fact that he did not vote for the MedCon tax to his public relations benefit. He seems well removed from responsibility for how the public was con'ed, and so trustworthy to work with citizens to decide how we will spend the $40+ million collected from us so far.
The era of con-man politics and business in NEO must end today, so we may move forward with positive change in this community in 2009.
Disrupt IT