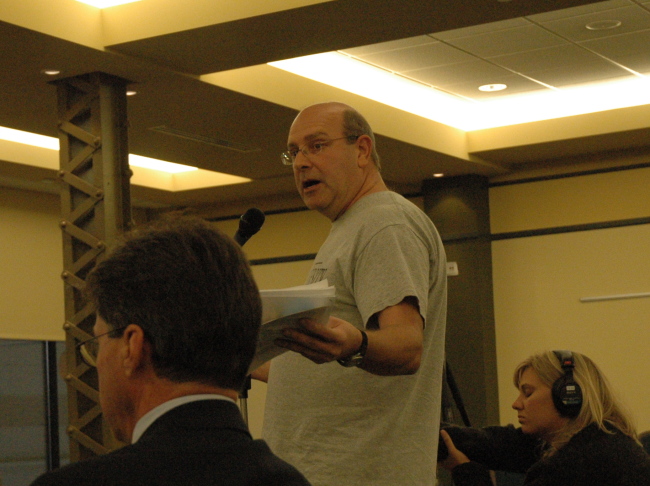 The last time I saw Ed "Citizen" Hauser alive was at the October 8, 2008 Cuyahoga County Commissioners public meeting on the Medical Mart and Convention Center plan. The billing said "GCP (Greater Cleveland Partnership) officials will attend the forums to share preliminary designs and plans for the development, and answer questions about the site selection from the public." The meeting was a fiasco - an insult to all who attended - as it seemed was intended by the highly disrespectful GCP CEO Joe Roman. Ed was furious. Ed died before he could follow-up. His work is not finished, and others in this community must take on his citizen burdens.
When I looked in Ed's office, after his burial, I saw and photographed a two page typed document titled "EJH PUBLIC PROJECTS STRATEGY" and for the Medical Mart Ed listed "COUNTY - CONVENTION CENTER / MEDICAL MART: Follow up with the pubic input process and location selection".
Also featured on Ed's strategy was his plan for "Office of Citizen". Until Ed died, our community had the job "citizen" covered by Ed, and we took full advantage of him for that. Now, we must take responsibility for being outstanding citizens ourselves.
Since Ed's death, I believe Fred Nance has been paid county citizen's money for negotiation of the Convention Center and Medical Mart deal, which the Cleveland Plain Dealer announced March 14, 2008, is a "when, not an if [1]". But the last public meeting about the Medical Mart made it clear that this is as far from a done deal as imaginable, in the best of times. So, it appears the public is being deceived.
These are the worst of times for commercial real estate development, and for Real Estate Development Trusts, and all parties associated with the Medical Mart plans, so it seems very premature to declare the Medical Mart a done deal, and there are many reasons to question if the deal is intelligent, if possible at all. All this while the public is paying a $0.25 sales tax dedicated to the development of the Medical Mart, which has accrued to over $40 million, to date.
If there was ever a need for a true citizens advocate, it is here and now.
This book on REALNEO is a place for the remaining citizens of NEO to address this Citizen Hauser Issue "COUNTY - CONVENTION CENTER / MEDICAL MART: Follow up with the pubic input process and location selection".