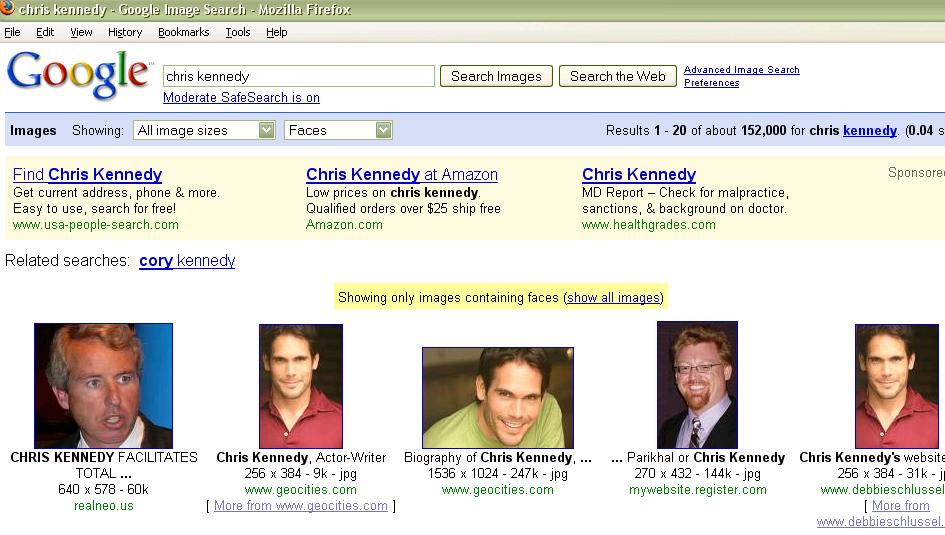 Recently I have taken a keener interest in how Google web searches are engineered, and in particular how Google searches for images on the internet. I quickly discovered that an image search is a very effective way to find both image information - and other information. 
I found out that Reaneo, and every other website around the world, has tens of thousands of news room researchers,  publicists, and data entry folks working for them round the clock.   
Google, Internet Explorer, Yahoo, and every other search engine is cooperating in direct partnership with Realneo (and every other web site)
But here's my point:   Let's say you search Google Images for Chris Kennedy - the gentleman behind the Cleveland MedCon
.
   I was surprised to find out that the first image returned was a photo on Realneo - taken by me after the Medical Mart Convention Center PutItOnTheBallot tax discussion hosted by Thomas Mulready in the basement of the Cleveland Public Library.
And if you click on the image of Mr. Kennedy,  the Realneo article about Mr. Kennedy loads.  Now I wonder if my IP address is used to geographically sort the images to return images somehow geographically connected to the searcher's IP?    If the google image search for "chris kennedy was keyed in on an IP address in India, or Mr. Kennedy searched for an image of himself from Boston, Massachusetts, would the images return in the same priority order?  I don't know the answer to that...

And there's another useful way to use image search:  if you can't find a blog article but know/remember there was a   image (any image) in a blog -  put the name of the reporter into google image search and every image that that reporter has posted with their name will be returned.     The returned hits look like a flicker gallery of that reporter's images.  
It is also interesting that no newpaper images were returned - probably due to copywrite issues and/or the fact that newspaper data bases aren't open to the web directly.   The fact that no newspaper images are returned is another example of how newspapers are falling behind and diminishing their usefulness - killing themselves slowly.   And, ironically, the newspapers really do have newsrooms and researchers and publicists!
 ------------------------------------------------------------------
MORAL OF THIS IS:   Whatever you post, take it seriously.   It will have impact beyond your immediate cirlce.   For all you know, what you write and the images you load may be found to be much more important in the future - or in  some other distant location.
With search engines like Google - your views and viewpoints are everywhere you can't be....so...as I have said before here on Realneo...especially with Google et al, YOU ARE THE BEST REPORTER!
Links:
[1] http://li326-157.members.linode.com/Recently%20I%20have%20taken%20a%20keener%20interest%20in%20how%20Google%20web%20searches%20are%20engineered,%20and%20in%20particular%20how%20Google%20searches%20for%20images%20on%20the%20internet.%20I%20quickly%20discovered%20thatan%20image%20search%20is%20a%20very%20effective%20way%20to%20find%20both%20image%20information%20-%20and%20other%20information.%20%20%20%20I%20found%20out%20that%20Reaneo,%20and%20every%20other%20website%20around%20the%20world,%20has%20tens%20of%20thousands%20of%20news%20room%20researchers,%20%20publicists,%20and%20data%20entry%20folks%20working%20for%20them%20round%20the%20clock.%20%20%20%20%20%20Google,%20Internet%20Explorer,%20Yahoo,%20and%20every%20other%20search%20engine%20is%20cooperating%20in%20direct%20partnership%20with%20Realneo%20%28and%20every%20other%20web%20site%29%20%20%20But%20here%27s%20my%20point:%20%20%20Let%27s%20say%20you%20search%20Google%20Images%20for%20Chris%20Kennedy%20-%20the%20gentleman%20behind%20the%20Cleveland%20MedCon.%20%20%20%20I%20was%20surprised%20to%20find%20out%20that%20the%20first%20image%20returned%20was%20a%20photo%20on%20Realneo%20-%20taken%20by%20me%20after%20the%20Medical%20Mart%20Convention%20Center%20PutItOnTheBallot%20tax%20discussion%20hosted%20by%20Thomas%20Mulready%20in%20the%20basement%20of%20the%20Cleveland%20Public%20Library.%20%20%20And%20if%20you%20click%20on%20the%20image%20of%20Mr.%20Kennedy,%20%20the%20Realneo%20article%20about%20Mr.%20Kennedy%20loads.%20%20%20%20%20%20So%20a%20click%20on%20the%20image%20of%20Mr.%20Kennedy%20brings%20a%20veiwer%20directly%20to%20Realneo.%20%20------------------------------------------------------------------%20%20%20MORAL%20OF%20THIS%20IS:%20%20%20Whatever%20you%20post,%20take%20it%20seriously.%20%20%20It%20will%20have%20impact%20beyond%20your%20immediate%20cirlce.%20%20%20For%20all%20you%20know,%20what%20you%20write%20and%20the%20images%20you%20load%20may%20be%20found%20to%20be%20much%20more%20important%20in%20the%20future%20-%20or%20in%20%20some%20other%20distant%20location.%20%20%20With%20search%20engines%20like%20Google%20-%20your%20views%20and%20viewpoints%20are%20everywhere%20you%20can%27t%20be....so...as%20I%20have%20said%20before%20here%20on%20Realneo...especially%20with%20Google%20et%20al,%20YOU%20ARE%20THE%20BEST%20REPORTER%21
[2] http://li326-157.members.linode.com/system/files/chris+kennedy+google+image+search+returns+realneo.JPG