I was very saddened to learn today we lost a great artist, loved friend and family to many, and inspirational Clevelander with the passing of Clarence E. Van Duzer. I knew Van Duzer as a family friend and always was inspired and energized by talking with him, his work, and his approach to life. At our last meeting, at his Convivium opening, in 2006, he was so strong and clear it seemed he would live on forever.
His life and work seemed of another reality. One of my most Cleveland moments was visiting Van Duzer at his then-new studio on the Cuyahoga River, in the Flats, in the early 1970s - this was the most remarkable and artistic personal lifestyle statement in the history of the region. There by the Burning River was one sign of sanity and intelligence, yet by all appearances this life was insane... nobody had a studio and lived in the Flats. I've loved the Flats ever since.
The last showing of his work I saw was spectacular. Van Duzer looked great - he was strong and inspired - his work sparkled at Convivium and it was excellent - beautiful, warm, energetic, emotional, mature paintings and strong, compact, thought-provoking sculpture. Write up here [1]... a nice example from the show below.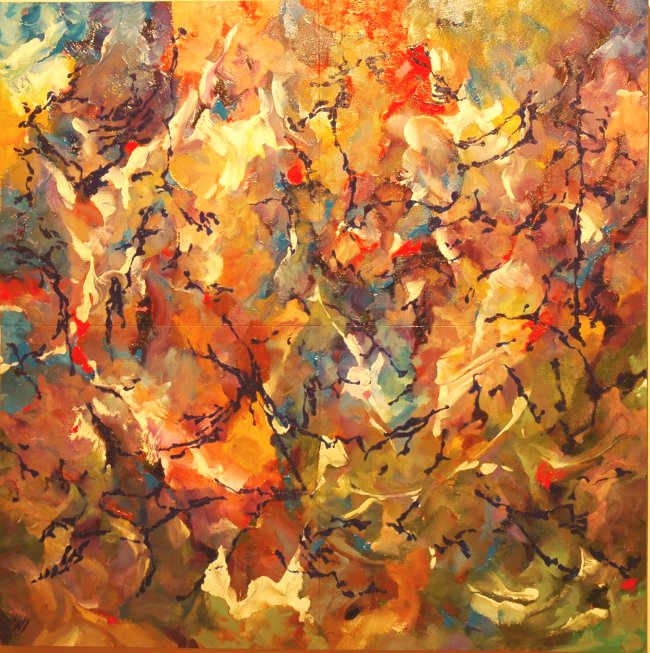 Van Duzer was under-appreciated by far too many in the "art scene" here.
Van Duzer's loss is the latest of many the local arts community will suffer in the coming years, as Van Duzer is of a great generation of late Cleveland School artists who made Cleveland a globally important creative source in the 1970s. Many are creating great art today, that should be collected and appreciated today.
Now is an important moment for interspection within the arts community today.
I feel very fortunate to have known Van Duzer, shared my appreciation for him and his art with him, and learned from him - he inspired me to be a sculptor, to view life from my own perspectives of reality, and to care about Cleveland at the very core.
Blessings!