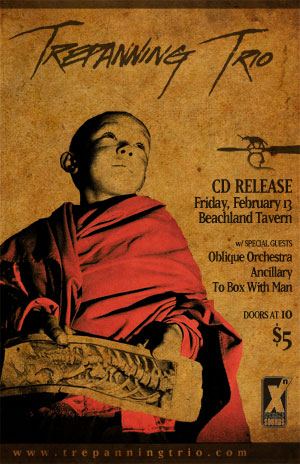 Trepanning Trio [1] is an instrumental avant-chamber ensemble named for a surgery in which a hole is drilled into the human skull. Cave paintings indicate that people believed the practice would cure seizures, migraines, and mental disorders by letting evil spirits escape.
Trepanning Trio is the passion project of Infinite Number of Sounds [2] co-founder and producer David Mansbach. Since its "unofficial" formation in 1998, David has invited fourteen musicians [3] from all over the United States (and Ireland) to record using only classical, traditional and handmade instruments (i.e., violin, viola da gamba [4], stem glasses [5], guzheng [6], pan lids screwed onto sticks and played with violin bows, etc). Hours of material was recorded, scattered across reels of tape and archived on several generations of studio computers and hard drives until it was finally organized into two distinct bodies of work:
"I am a Crooked Arrow" [7] is a collection of string compositions and sweet little songs inspired by a disparate amalgam of film, literature and music.
"The Man Killed the Bird..." [8] is an album of recent recordings of tones, textures and themes fueled by creative improvisation and unlikely collaborations.
Ten musicians will assemble at the Beachland Tavern [9] (15711 Waterloo Rd, Cleveland, OH 44110) on Friday, February 13, 2009, to perform selections from "I am a Crooked Arrow" and "The Man Killed the Bird..."
The group below will represent Trepanning Trio (plus 7) at the big album release show, playing selections from I am a Crooked Arrow and The Man Killed the Bird.... It's going to be a VERY interesting group:
David Mansbach, Cleveland, Ohio - Bass, Guitar, Percussion, Stem Glasses, Melodica
Ron Tucker, Brooklyn, New York - Drums, Percussion, various key and mallet instruments
Bob Drake, Cleveland, Ohio - Various hand-made acoustic and electronic instruments, Banjo
Andrew Ludick, Kilkenny, Ireland - Kalimba, Ukulele, Percussion, Melodica and Harmonica
Kris Morron, Cleveland, Ohio - Guzheng and Trombone
Dan Wenninger, Cleveland, Ohio - Saxophone
David Badagnani, Kent, Ohio - Accordion, Oboe, English Horn, Fiddle & Viola da Gamba
Tyler Horter, Cincinnati, Ohio - Guitar and Banjo
Eric Alleman, Cleveland, Ohio - Keys and Percussion
Brent Gummow, Cleveland, Ohio - Video
Listen to the recent interview of David Mansbach by John Panza on Heights.Arts.Radio [10] talking about Trepanning Trio and this double CD release at The Beachland. [10]
Experimental Behavior
Beachland Tavern
15711 Waterloo Rd
Cleveland
,
OH
44110
United States