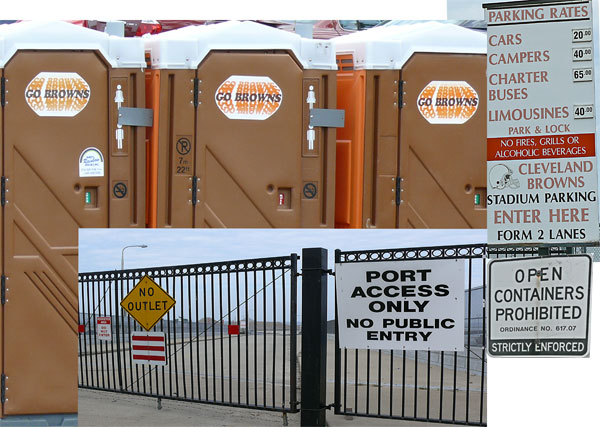 You know all of us in NEO really rely on the Cleveland Cuyahoga Port Authority. Their docks are an extremely valuable economic asset to all of us taxpayers. Generate a lot of jobs – (thought the League of Women Voters couldn't find any substantiation for that claim last year when the Port sought a new tax levy).
Not only is the Port a beehive of shipping activity, it also finds an occasional way to be a public parking lot. During the Browns games the Port has a special road (about west 4th) just to get those cash cow cars onto their otherwise private and too-busy-for-the-public property. And fill it up.
I wonder whose books the cash turns up on…I know who paid for the bridge!
And Burke Lakefront Municipal Airport? Very important municipal facility (for quiet nepotisit napping). Mayor Jackson has determined we need that too - at least as a safety back up to Hopkins - except if there is a 3 day car race, then Burke suddenly is superfluous.
It is in these little signs that we can see the larger truth about what is really needed in Cleveland. And who is leading us down the dead end economic drain.