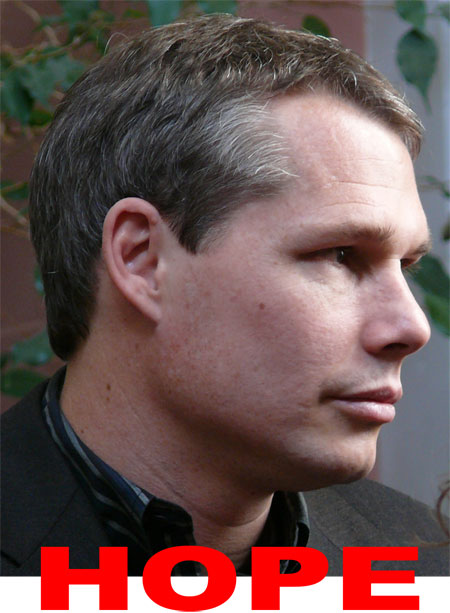 Shepard Fairey was the center of media attention this morning at the Brighton District Court House, in Brighton (a neighborhood in Boston) Massachusetts. The Boston Globe sent a reporter and a photographer, and the Boston Herald send a reporter. There were at least two other reporters present, but the TV media didn't show.
The Court staff were courteous and helpful to the media, and informed in their discussion of Mr. Fairey's issues with the Court.
What makes Mr. Fairey tick? Why had he been arrested in Boston?
Here is a chronology:
September 16, 2000 a citation for defacing public property was issued by Boston Police to Mr. Fairy. Mr. Fairey did not appear for the scheduled hearing and so a warrant was issued.
About 8 years go by and Mr. Fairey hits a home run with his Obama for President "HOPE" poster.
The ICA plans its Fairey Exhibit – and I bet Mr. Fairey had completely forgotten about the Citation and Warrant from 2000. On February 7, 2009, when the ICA (Institute of Contemporary Art) opened a special evening event to honor Fairey ,
the police were on hand to arrest him
, and hand him 2 or 3 new citations for placing new images of Andre – graphics which had been put on bridges and news boxes and street structures - recently in three separate districts in Boston in conjunction with the ICA show.
Now one of the Fairey exhibits at the ICA is a looped video. The video shows a group of media installers – my impression was they were from
ObeyGiant
– Mr. Fairey's media company - operating in Cambridge, Massachusetts. There is video of how "bombing" of an area takes place. On the street we see stencilers holding a 12" by 12" stencil of Andre against a street light signal box and then rolling an inked roller across the stencil. In about 5 seconds or less the stencil is up. Adhesive backed Andres are applied to surfaces. Bingo! The video shows people with the tag team climbing up over the barriers –(clearly illegal) to gain access to an MBTA subway station, then the crew at lightening speed goes into car after car and removes (slides out) the commercial cardboard posters which are in frames, and slide in images of ANDRE. Like a James Bond operation. In and Out. But not very legal. The video announcer notes, with a wink in his voice, that "Nothing was "defaced"" – which is literally true.
So when I spoke with Mr. Fairey at the Court House I told him I had taken in his ICA exhibit and I had seen the video. I asked him about the video - what was he thinking when he let that video run for the world to see?
Mr. Fairey asked me if I thought he looked younger in the video, because he said it was made in 1984. I still didn't get why he allowed the video to be shown.
Is Mr. Fairey trying to be in both the legitimate corporate world and in the illegitimate art world at the same time in the same place, Boston?
Then his counsel pulled him away….
As the morning wore on – we all waited while Mr. Fairey had a show cause hearing before a magistrate which is not a public event – I found out that two of the reporters were considering buy out offers (in the vicinity of $70,000) from the Globe. Neither were certain about what they would do.
The public portion of Mr. Fairey's court visit was continued until April !4, 2009. But while we were sitting in Court another fellow who had a few old warrants came up before the Court. The judge indicated that the bailiff should bring the fellow into the dock. Then right before Mr. Fairey's eyes the fellow was cuffed, and taken down to the jail. We could hear him calling for someone to bring him his coat. Sitting on the same bench as Mr. Fairey, I could watch Mr. Fairey's face and hands. I would say the experience in Brighton District Court was making him pretty serious.
When we exited the Court at noon, I told him I was aware that he had a wife and kids at his home in Los Angeles and asked Mr. Fairey if he felt that his interaction with the system this morning hadn't been an "OBEY GIANT" experience.
Mr. Fairey looked at me and knew exactly what I meant. Then his counsel pulled him away…
I called after them… "Hey, let him talk, Mr. Fairey is a symbol for open, free discourse…"
They kept departing. I shouted "Good Luck!", and Mr. Fairey turned, smiled, and said "thank you."
How does society reconcile the "legality" of paid for media (which is clearly "grafitti") with the Authority view that unpaid media - such as Mr. Fairey's - is illegal and objectionable?
Frankly, I think an effort to answer that question is one of the driving forces behind the ObeyGiant campaign.
How will Boston handle this situation? Can this experience be a healthy, productive one for Boston?
We know how the situation is handled in Cleveland.