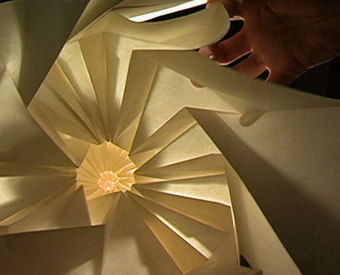 BETWEEN THE FOLDS directed by Vanessa Gould
Screens Thursday, March 26 7:15 PM and Saturday, March 28 2:15 PM

One of my favorite things about the Cleveland International Film Festival is the off site events. The Cleveland International Film Festival and various local institutions always find interesting ways to connect each year. SPACE the contemporary art gallery at 2220 Superior Viaduct has long been a partner. This Saturday at 4 PM at SPACE meet Vanessa Gould director of BETWEEN THE FOLDS. This event follows the last screening of her film. It is free and open to the public and visitors will have the opportunity to make their own origami.
I saw the film BETWEEN THE FOLDS last week as a screener. It is a documentary and falls under three Cleveland International Film Festival categories: Nesnady + Schwartz Documentary Film Competition, Film is Art and Family Films. This is a film about origami. Not an exciting topic you say? Then you don't know origami! I certainly didn't before I saw BETWEEN THE FOLDS. At the end of the film I felt a little stunned and just kept thinking WOW! BETWEEN THE FOLDS reveals a whole world and an art form I didn't know existed (forgive me, I didn't really think of origami as art until I saw this film). Vanessa Gould features origami masters from around the world including several French artists, an early innovator from Japan, and some American scientists turned paper folders. Each of the artists featured has a distinct and recognizable style. Most have made a career of origami art. Their work will astound you. Many of the pieces shown in the film consist of hundreds of folds and are made from custom made paper. Some of the artists speak at length about origami and their theories could rival Clement Greenberg's theories on Abstract Expressionism. BETWEEN THE FOLDS is visually a very beautiful film. The soundtrack is great too.
Top Photo: Paper Sculpture by Chris Palmer, Experimenting With Movement and Light, film still