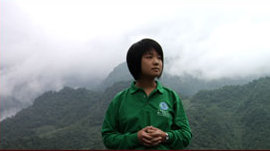 One of this years film categories is "Its Easy Being Green." These films address environmental issues around the world. I saw screeners of two of the films; THE ROAD AHEAD: THE FIRST GREEN LONG MARCH (China, USA) [1] and GARBAGE DREAMS (Egypt, United Kingdom) [2]. I found both of these documentaries fascinating. Rarely does one have the opportinty to see an alternative to the American concept of "being green."
THE ROAD AHEAD: THE FIRST GREEN LONG MARCH
Screens Thursday, March 26 2:00 PM & Sunday, March 29 4:40 PM
GARBAGE DREAMS
Screens Friday, March 27 11:40 AM & Sunday, March 29 2:30 PM
GARBAGE DREAMS
Directed by Mai Iskander
GARBAGE DREAMS begins with a surprising and thought provoking statement: "With a population of 18 million, Cairo, the largest city in the Middle East and Africa, has no city-wide waste disposal system. For generations, the residents of Cairo have depended on the Zaballeen Egypt's indigenous garbage workers to collect their trash. Paid minimally from residents, Zaballeen make their living from recycling.

The Zaballeen of Cairo put most cities's recycling efforts to shame. But we soon learn that their culture and livelihood is threatened. Cairo, in an effort to modernize, has hired foreign companies to collect trash and dispose of it in landfills. This decision has a high environmental and social cost. The Zaballeen recycle 80% of Cairo's garbage; the foreign companies only recycle 20%. There are approximately 60,000 Zaballeen in Cairo. They live in a neighborhood of Cairo that is essentially a garbage village. Most Zaballeen are uneducated and have no other job skills than garbage recycling.
This documentary follows three teenage Zaballeen boys, Karem, Nabil and Osama for a period of four years. Facing the loss of the traditional Zaballeen way of life, the boys struggle to find employment and a meaningful existence. Their fate seems quite sad at times but it is balanced by their youthful energy and hope.
My favorite person in the film is a young Zaballeen mother and social worker, Laila, who starts a recycling school. She helps the Zaballeen young men learn job skills that will make them more competitive with the foreign companies. Laila's efforts to empower the Zaballeen are successful in many ways.
GARBAGE DREAMS ponders a question that is very relevant in many parts of the world: how can people reconcile new technology with old traditions and existing culture? The Zaballeen's impressive ability to recycle so much of Cairo's garbage is also a reminder that new techniques are not always best.
Director Mai Iskander is a graduate of New York University's Tisch School of the Arts. GARBAGE DREAMS screened at the 2009 South by Southwest Film Festival.