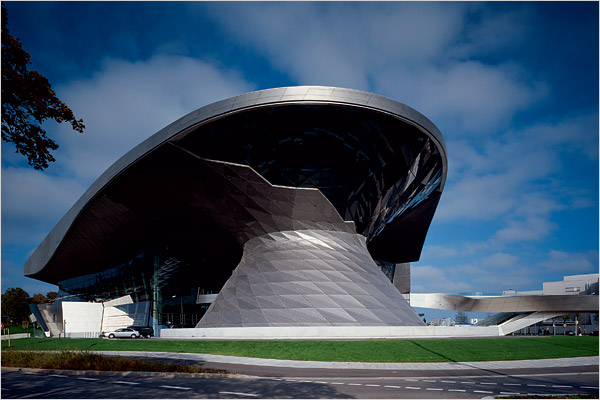 BMW Welt , Munich 2008
An exhibition well worth seeing is "Coop Himmelb(l)au [1]: Beyond the Blue at the Wexner Center for the Arts [2] in Columbus -- runs Thu April 2-Sun, Jul 26. This is the U.S. debut of a traveling exhibition curated by MAK,Vienna. [3] MAK, Vienna is one of the world's leading museums of contemporary art. Coop Himmelb(l)au: Beyond the Blue showcases perhaps 100 architectural models. They may be the tiny seeds of some of the most fantastic buildings in the world, but many of them are amazing and can almost stand alone as works of sculpture.
The name Coop Himmelb(l)au references the firm's structure as a cooperative. The "L" in parenthesis means alternately "blue sky"and "sky construction" (without the "L"). Many Coop Himmelb(l)au buildings look like they are a space craft hovering above the ground.
The exhibition covers over forty years of Coop Himmelb(l)au's unique approach to architecture.
Closer to home there is also the Coop Himmelb(l)au addition to the Akron Art Museum [4].
Links:
[1] http://www.coop-himmelblau.at/
[2] http://www.wexarts.org/
[3] http://www.mak.at/e/jetzt/f_jetzt.htm
[4] http://www.akronartmuseum.org/
[5] http://li326-157.members.linode.com/system/files/bmwslide1.jpg