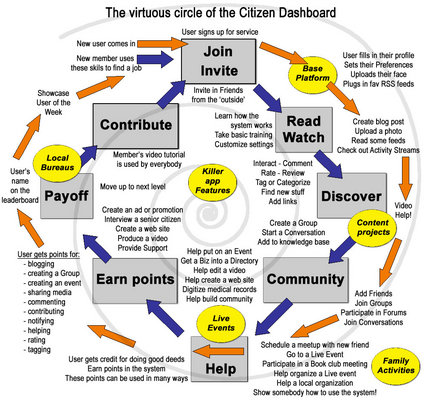 Information technology pioneer and visionary - and Oberlin graduate - Marc Canter helped me launch REALNEO.US, in 2004... from San Francisco. Now, five years of social community and technology building and innovation later, I've convinced Marc to personally return to Northeast Ohio to collaborate with government, citizens and organizations in the community to make the open web a core economic and social strength of our region, at the global level.
We propose that this region focusing on developing social computing related excellence will generate 1,000s of jobs and $ billions in economic benefit here, in just a few years. And we have a plan for how to initiate that, which we will present to the leadership of Cuyahoga County on April 27, 2009. We call this the Citizen Dashboard Proposal.
Marc is here to be a citizen of NEO and work with citizens of NEO on this proposal - he wants to friend you.
I am helping coordinate Marc's schedule here, and he is available directly. If you are interested to meet with Marc, please contact me by email at norm [at] realneo [dot] us, contact Marc Canter at marc [at] broadbandmechanics [dot] com, or post to one of the sites listed below... or swing by the Euclid Tavern tonight - Tuesday, April 21, 2009 - from 6-8 PM - to meet and greet Marc and chat about any related interests.
There will be other casual opportunities to connect with Marc over the next week - I'll post what I know is planned on REALNEO, and others will extend open invitations across their networks.... spread the word.
Starting Marc's return here with many friendly hellos would certainly show this Oberlin graduate that Northeast Ohio still has heart - say so at
The NEW Euc [2]
, tonight!
We have launched a site to develop this proposal and implement core concepts and capabilities at http://citizen.broadbandmechanics.com/home [3]
Discussions on our proposal are posted online for global input:
REALNEO: http://realneo.us/content/citizen-dashboard-proposal [4]
Marc's Voice Blog: http://blog.broadbandmechanics.com/2009/03/13/citizen-dashboard-proposal... [5]
From Wikipedia: http://en.wikipedia.org/wiki/Marc_Canter [6]
Marc Canter is CEO of Broadband Mechanics, which produces People Aggregator, a social networking tool with source available (but not under an open source license).[1] Previously, he was a founder of the company that became Macromedia. His blog, Marc's Voice, frequently critiques other Internet luminaries and competitors, such as Mark Zuckerberg[2]. Known for his boisterous appearances at technology conferences, Canter makes no secret of his left-leaning politics, identifying himself as a "red diaper baby" (i.e. politically left-wing since infancy) at the 2005 Gnomedex meeting in Seattle.[3][4]
Canter is also a contributor to many open standards efforts and advocates for end-user controlled digital identities and content - being a co-founder of the "Identity Gang"[5] and a co-signer of the Social Web Users' Bill of Rights[6]. He has consulted with global corporations including PCCW and Intel and has written on the multimedia industry, micro-content publishing and social networking.[7]
Euclid Tavern
11625 Euclid Avenue
Cleveland
,
OH
44106
United States