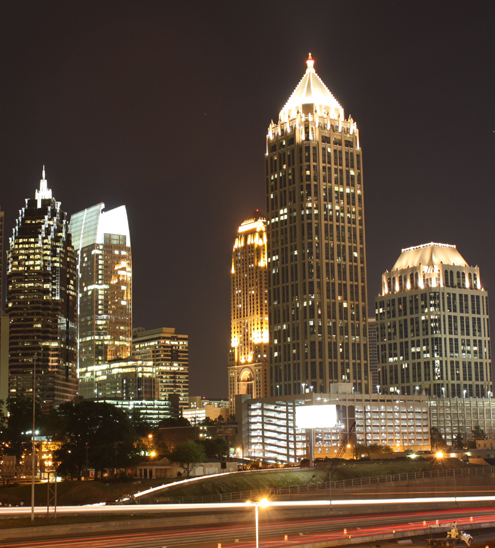 So what can Cleveland do to turn itself around? That was the same question that many citizens in Atlanta were asking thirty years ago. It breaks down to the issues and the solutions:
Issues:
Lack of Vision - Citizens groups, NGO's and local leadership fails to conceptualize a unifying vision of their town
Sustainable Business - Local leadership fails to institute of plan of action that calls for symbiotic relationship between big business and the local communities

Affluent Flight - This used to be know as "White Flight' but in these politically correct times, I suppose Affluent Flight makes more sense. Those with money, head for suburban bliss.
Ineffective Tax Structure - Self-explanatory
Culture Bomb - Local leadership fails to leverage the financial implications of not bringing artist and arts organizations to the table.
The Stigma of Crime - Whether real or imagined, the city leadership allows the city and populace to be framed as crime ridden

Separatism and homophobia - The collective conscious of the city fails to actively pursue a more equitable playing field for persons of all strata
Solutions:
Cognition and Clarity - The city must have a vision, beyond hollow rhetoric, which offers tangible methods of growth, development and proactive change
Business enrichment - Using programs like Empowerment Zones and Renewal Communities, as well as other means of attraction, the city can bring to fore new business along with existing business to form a sustainable business friendly environment. This increases the tax base, while also working to solve the problems of classism.
Cultural Diversity Gains - By sponsoring city wide events that have a national or international appeal, attracting minority groups, women or those disenfranchised, the city can rebrand itself as being a beacon of hope toward attaining the American Dream. Bringing more money into the city, this strategy also increases the tax base
Safety and Cleanliness - In order to have a clean, safe, beautiful city, citizens must get their hands dirty. Trees of Atlanta as well as Atlanta's Beltline project are just two of the multitude of citizen empowerment activities involving politicians, business interest and educational institutions. This combined with an improved working relationship between local police and fire departments can help to give a town a more "livable" image
Infatrsucture investment - Under the auspices of Mayor Shirley Franklin, 7 years ago the City of Atlanta successfully allied with the State of Georgia to secure $3,000,000,000 in funding for a complete overhaul of the city's sewer system. Not only did this make the city healthier, but it also increased the value of holding city bonds. It was and continue to be a huge win/win situation; a gift that keeps on giving.
Conclusion:
In no way do I make claim of being an authority of these issues. I know what I see and I have lived long enough to see what will work and what won't. Once upon a time, within my own lifetime, Atlanta was a crime infested city with a hideous tax base. That has changed...big time. You can't simply throw money at the problem, that won't work. Citizens, universities, NGO leadership, politicians and business must be deeply engaged and committed for the long haul.
In Atlanta we still have our fair share of problems, but overall I'd have to say that our town has come a very long way. It's been a ongoing process, with both setbacks and fabulous results.