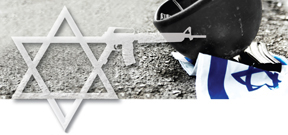 "This exquisitely balanced play packs quite a formidable political punch. It will be of great interest to anyone concerned about Middle East geopolitics and the consequences of impending political change." - The Chicago Tribune
"A pressure cooker of interfamilial and political tension." - The Washington Post
PANGS OF THE MESSIAH
June 17-July 1, 2009
Brooks Theatre, The Cleveland Play House, 8500 Euclid Ave, Cleveland OH 44106
Written by contemporary Israeli playwright Motti Lerner
Directed by Scott Plate
An emotionally charged drama set in 2012, PANGS OF THE MESSIAH portrays the struggles and conflict faced by a family of religious Zionist pioneers after the signing of a Peace Accord by the Israeli government and the Palestinian Authority. This thought-provoking piece of theater encourages understanding of the wide-ranging convictions, passions and perspectives of the Israeli people and of the diversity and strife that exists in contemporary Israeli society.
Each performance will include a pre-performance talk one hour prior to curtain and a post performance discussion immediately following.
TICKETS
Preview Nights June 17 & 18: $12
Opening Night June 20: $14
All Other Dates (June 21, 24, 25, 27, 28, 30 and July 1) Day of Show: $24
ADVANCED SALE Discounts: JCC Members $21; Seniors $22; Students $12
Call (216) 593-6258 for groups of 10 or more: $18
To purchase tickets:
(Transaction fees will be added to phone and online orders)
Performances times are 7:30 pm on Tuesdays, Wednesdays (with the exception of Wednesday, June 24 at 1:30pm) and Thursdays, 8:30pm on Saturdays and 2:00 pm on Sundays. Free parking in the CPH lot is included with price of ticket.
Brooks Theatre
8500 Euclid Ave Cleveland Play House
Cleveland
,
OH
44106
United States