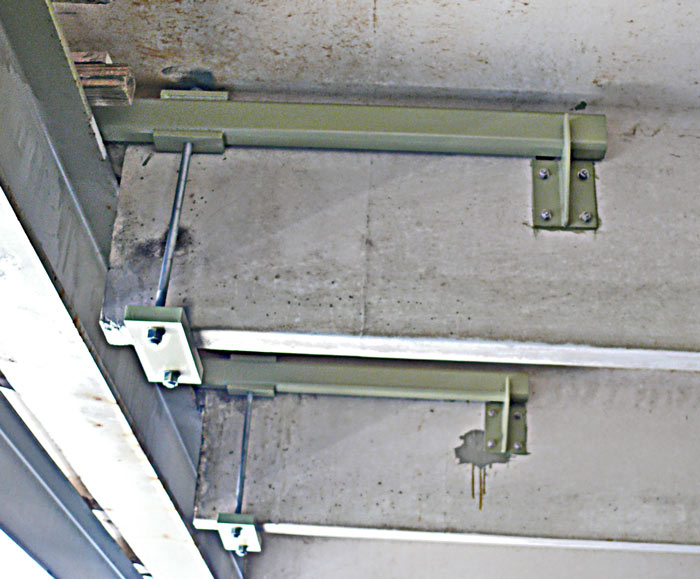 Realneo has reported on the double T beam -precast deck failure at the University Square Mall Parking Garage in four or five posts over the last year or so (search on Realneo –
university parking garage
) The Cleveland and Cuyahoga County Port Authority provided the 40.5 million dollar bonding to build the parking facility and owns the 5 deck 2,500 car structure.
On June 9, 2009 I stopped by the garage to observe the repairs which were designed by the Chicago structural engineering firm of
Raths, Raths, and Johnson
. The repairs were implemented by
Grunwell Cashero
of Toledo, Ohio.
The image above shows two of the green rectangular steel tubes, which are attached to both sides of the hundreds of double T beams which were showing tension cracking at the intersection of the T beam vertical leg and the deck. The steel tubes and the 1 inch diameter threaded rods and base plate are intended to resolve the failure by removing the tension from the notch between the vertical and horizontal legs of the T and transmitting the tension to the bottom surface of the T. The installation of the steel and the replacement of the deteriorated deck surface (both done by Grunwell Cashero) appeared very neat and workmanlike.
However, more of the double T beams will continue to fail because the original design of the T beam and their horizontal steel support was radically wrong. If anyone in the Realneo audience has some free time, it would be interesting to file a public records request with the Port Authority with the objective of finding out who paid for the repairs (The Port authority I presume) and how much the repairs cost.
This parking garage is a perfect example of why the Port Authority should not own commercial real estate.
But clearly the Port Authority hasn't learned this lesson, because yesterday the Authority voted to enter into a 170 million dollar deal to own the proposed Eaton headquarters at Jacobs' Chagrin Highlands,
which Lmcshane reported yesterday on Realneo.