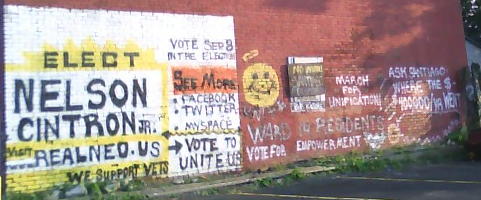 Dear Ward 14 Residents...
I invite you to get proactive in our community and to find positive ways to unite, to turn negatives into positives, and to collaborate ideas towards reality... It's time for us to take back our neighborhoods and community. We need to show our solidarity in fighting crime, rebuilding our community, and finding new ways to use our diversity as a complimentary means towards progress & powerful changes! We need to empower each other, believing in the possibilities of teamwork, commitment, and building a sense of community.
1) United we stand... to share our concerns, find ways to solve simple problems, and to empower our residents.
2) SENIORS NEED CARING RESIDENTS TO ASSIST THEM SOMETIMES, SO---- Help our seniors to overcome issues...mow their lawns, offer to repair stuff, and care about them when they are walking down the street!
3)Thieves, Killers, Criminals, Drug Dealers, Prostitutes, Gangs with Guns rule some of our streets and parks..yep-it's still a silent but deadly issue... Thugs need to stop intimidating our citizens, hassling our little ones, and absolutely violating our quality of life...
It's time to be empowered and to let these unbelievable thugs be advised that we are intolerant to their games... we will not allow them to keep intimidating us! They need to clean up their acts, move somewhere else, and learn that we are not going to tolerate their practices anymore!
4) The diversity that once became our weakness as a community is uniting in force to promote an improved quality of life for the citizens at large of the City of Cleveland...
5) Let's promote a respectful, considerate, and family oriented environment that protects our citizens, encourages consideration, and empowers folks to do their best! Let's be good to one another, let's look out for our neighbors, and let's embody unity to prevent further tragedy in our community. Let's clean up our streets, plant seeds and gardens, and let's rebuild our housing stock...because together we can do so much good for eachother!
We invite you to partake in this walk against crime in our community! Take a stand and voice your opinions! Bring signs, wear your tennis shoes, and prepare to share a community wide event! Meet us at Second District Police Station between 5:30-6pm so that we can step off in UNISON in this fight!
Thank you for getting active in Ward 14!!! Community Leaders, Citizens, and Families---- be a part of the solution by doing your part to promote positive and productive solutions and direction in our community! I look forward to seeing you out there!
I challenge everyone to bring a positive attitude that says, YES, WE CAN TAKE BACK OUR COMMUNITY!!! Bring your friends, family, and loved ones! Let's be proud of our community again!