While I was sitting behind Food On The Move, at St. Clair and East 140th, where a friend works, I noticed a pear tree in the lot next door, full of rippening pears. While the lot is well tended, and does not appear "vacant", the lone pear tree is the only occupant. And nobody seems to notice it is there, despite its bounty of free food. There are 100s of pears on the tree - in a market, they would be worth $100s. This lot could contain dozens of pear trees - perhaps 100s - producing $10,000s in income for the owners and those who tended them.

Apply that basic concept to growing 200+ different foods on 100,000+ different sites around the region and you understand how we will grow $ billions worth of local food, and address our concerns over food security and the health of our environment. The Real Coop Food and Info initiatives are the ways to do this the most effectively in the world.
Yes, food grows in Cleveland.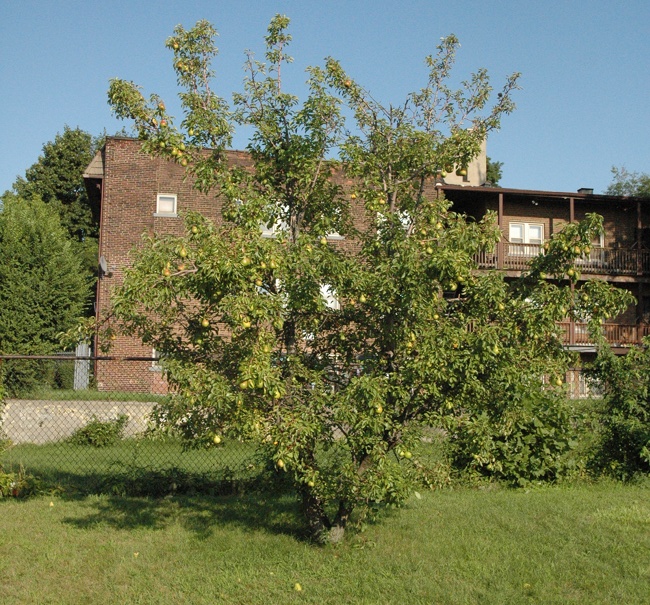 Links:
[1] http://li326-157.members.linode.com/system/files/E140thPearPanLogo.JPG
[2] http://li326-157.members.linode.com/system/files/PearTree650.JPG
[3] http://li326-157.members.linode.com/system/files/Pears650.JPG
[4] http://li326-157.members.linode.com/content/qustion-day-why-isnt-there-food-growing-everywhere-and-why-dont-we-eat-it-when-there
[5] http://li326-157.members.linode.com/content/clevelanders-must-get-connected-november-5-2001-opinion-editorial-cleveland-plain-dealer