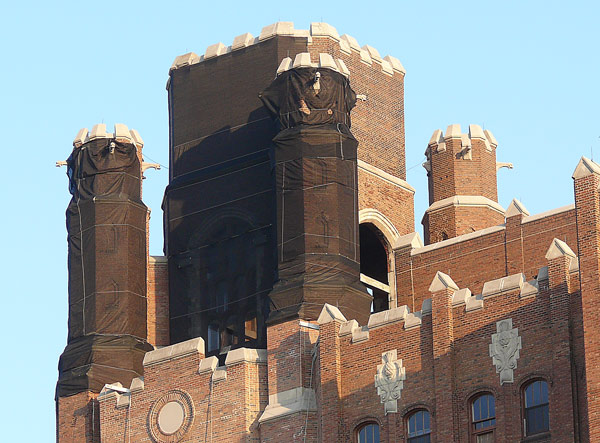 In a rare and unusual showing of anthropomorphism [1], buildings in the neighboring Fairfax community – old long-time friends of the Carnegie Medical Building – have donned mourning cloaks [2] in respect for the DEAD. There were even bells tolling.
Ashes to Ashes, dirt to dirt, architectural legacy to rubble. So it is written, so shall it be. Amen
_____________________________________________
PS When I was contacted to shoot over and grab this image, and I was on the windy sidewalk, I heard another old building whisper "For Whom Does the Bell Toll [3]?"
And I swear I heard the clear response:
"Cleveland, the bell tolls for you..."
Links:
[1] http://www.answers.com/topic/anthropomorphism
[2] http://books.google.com/books?id=DYk9AAAAIAAJ&pg=PA120&lpg=PA120&dq=mourning+cloak+death&source=bl&ots=x9h8p11in6&sig=jiMwD0lN5j4O2GYRTt_0JRv7c5Y&hl=en&ei=RaWFSvfnOYKL-Qa5soy7CQ&sa=X&oi=book_result&ct=result&resnum=10#v=onepage&q=mourning%20cloak%20death&f
[3] http://en.wikipedia.org/wiki/For_Whom_the_Bell_Tolls#Main_themes
[4] http://li326-157.members.linode.com/system/files/carnegie-neighbor-bldgs-mou.jpg