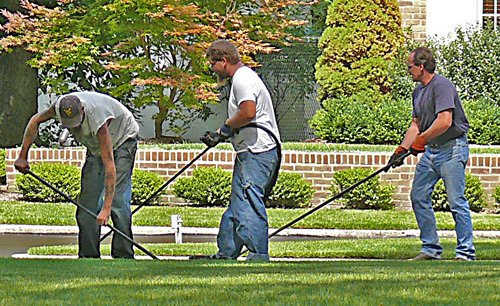 Many times when you read about polluters, the motivation for polluters is to save money - make more profit. Water polluters do this by dumping toxins into storm drains, sewers, or watercourses. Air polluters save money by discharging particulate and chemical pollution out their chimneys.
But one of the strange things about human behavior is how advertizing, combined with group behavior dynamics, is so forceful it has been able to mind-bend otherwise intelligent persons into annually PAYING to buy asphalt emulsion lip-stick for driveways. And since the asphalt only hangs around for about a year before it washes off and finds its way into the local stream, what these otherwise intellingent people are doing, in essence, is paying cash to pollute their local waterway.
Why water shed/water quality advocates haven't sponsored legislation to ban this insanity is an interesting question.
I have watched the same driveway slurp up a few hundred gallons of "driveway sealer" year in and year out.
I reported in 2007 here on Realneo
about disappearing asphalt coat pollution. Think we're making any difference? Where are our Sustainablity Men?