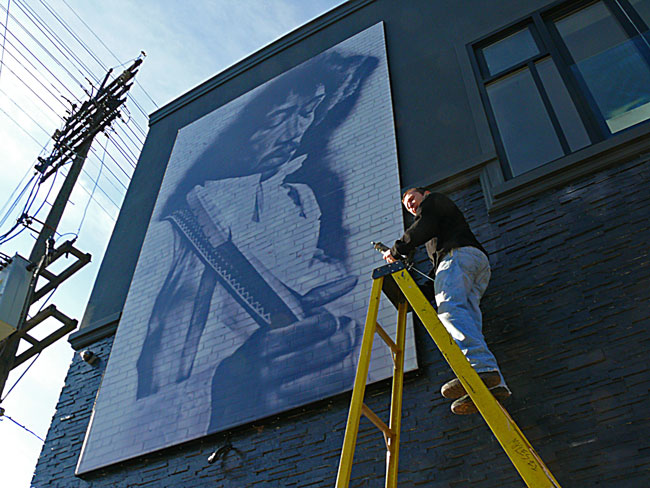 About a year ago the guitar shop was no longer and the building was sold.
The new owner made efforts to spiff up the façade, removing Jimi's likeness in the process. And the Leslieville neighborhood went nuts.
Jimi had become an important part of Leslieville (I even remember Jimi from my earlier visits to Toronto) and the neighborhood wanted Jimi back.
The new building owner listened, and was able to obtain a digital image of Jimi from a Torontonian who had incidentally photographed the mural a few years earlier. The owner had a large format billboard printer reproduce the original image as it appeared on the brick, and hired Neil (on the ladder with caulking gun) and others to frame, mount, and finish the New Jimi.
But it gets even better: The new owner has the idea of annually changing Jimi and is inviting those with original photos of Jimi to submit them for future display.
What a great idea!
A community that appreciates and cherishes its built environment. A community that gets involved and communicates. A community where discussion develops better relationships and appreciative ideas.
We don't see much of that here in Cleveland.
If you are interested in seeing a new Jimi and have an old photo of him, I don't have the owner's name and contact info yet, but I will post it here when I get it.