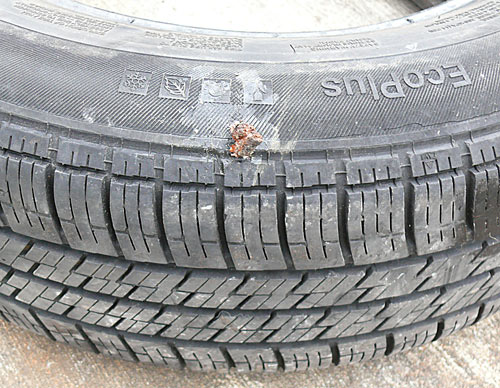 The image above shows a tire plug installed right at the edge of the radial tread - just on the edge of the sidewall of a radial tire.
This is not a good place to plug a tire.
Installing a plug in the tread area is ok, but in the sidewall the plug will soon leak (the flexure in the bias ply sidewall constantly palpitates the plug, eventually leading to weakening its glue'ed in status). This plug did leak about a week after I installed it. So I removed this tire from the car and discarded it. (a boot could have been installed inside the tire, but the expense did not justify. On a more expensive truck tire a boot would have been a reasonable solution)
Are tires a mystery to you?
There are five on every vehicle, but many of us know little about them; how they are constructed or how to fix them.
This is the first report in a series on tires.
Let me hear from you with any ideas you may have.
Now ladies, this tire fix it series is kind of a big, testicular dude's thing, like the Browns, so maybe you want to tune this out.
Then, on the other hand, maybe you could be the best audience, and avoid getting ripped off at the gas station/tire shop/turnpike.
A tire plug kit costs about $5.00 (autozone, wallmart) and you can install the plug without jacking up the vehicle or removing the tire from the car. That's cool. You will need air pressure thought - a bicycle pump will do until you get to the corner gas station air.