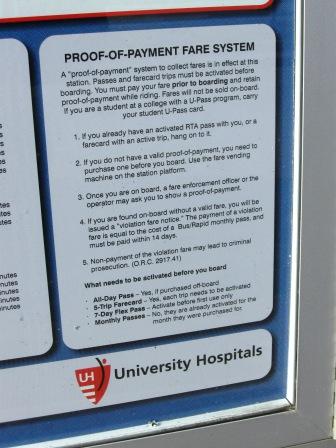 If you attempt to ride RTA and the fare box machine at the station is not operating and you attempt to pay as you board the train, but the fare box on the train is not operating--does that make you a criminal?
Today, I had to witness RTA's Gestapo as they boarded the Redline train [1] at the 79th St. station, grilled an African-American man for "his papers," confiscated his ID and forced him to get off the train at the Quincy Stop. He offered to pay then and there, but that was not good enough.
I am ashamed to say I could have filmed the incident, but I did not for fear that I, too, could be hauled off the train. [2] I witnessed RTA treating an innocent human being like a criminal. I told the Gestapo that the fare box was not operating at West 25th St., but that didn't stop them from hauling the man off the train.
My fellow riders noted that we pay a sales tax to operate RTA and shouldn't be treated like criminals for a $5.00 fare, when the same RTA runs their tourist trolley for a "Smile," downtown. I have to ask: This is America?