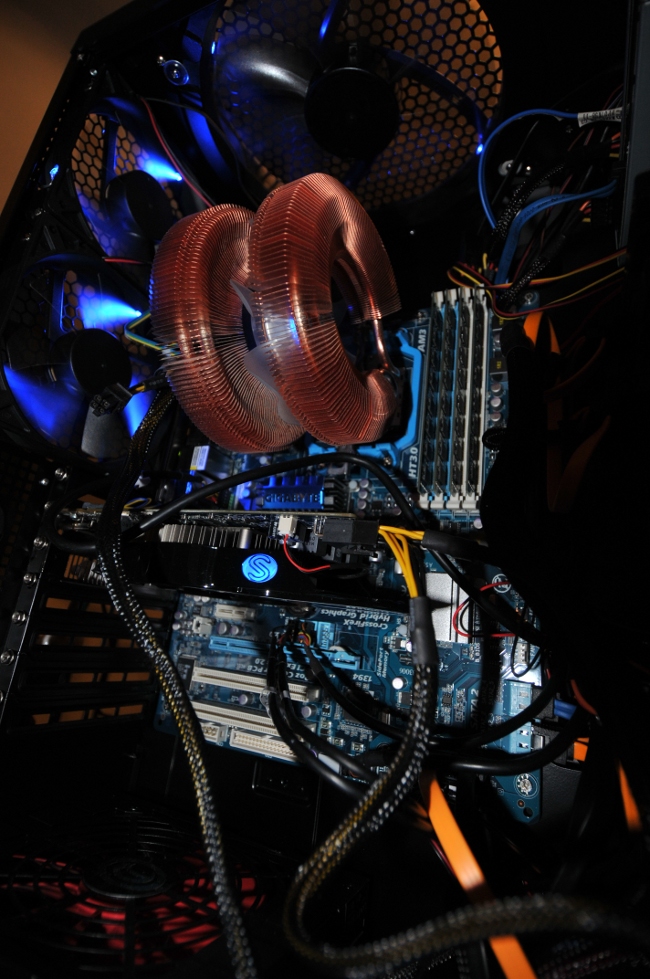 Welcome to East Cleveland: Home of One of the World's Fastest Computers [1], now optimized with CrossfireX dual GPU solutions [2], exclusively running ICEarth Linux.
ICEarth - Information/Internet Community Earth [3] - proudly calls EC home.
ICEarth - a team of some of the world's best programmers, and I - took on an Earth-shattering challenge, this year.... build the world's fastest and most economical computers of any operating system for capturing, compositing, and editing audio and video with sample level accuracy, on the desktop and laptop. What we have built, for the professional studio and high end processing, on the desktop, is one of the world's fastest computers running open source everything, and just about any other software in the world - the ICEarth Bigbang One.
To build this computer to these specifications, ICEarth programmers rewrote most of the Linux operating system to run a state-of-the-art computing platform configuration that has not run Linux before... the silicon on the motherboard and video card is barely dry. For ICEarth Bigbang One, we wrote the Linux drivers for some of the most powerful hardware ever used in a computer... it is impossible for anyone to replicate or hack this system.
We also wrote ICEarth Linux to support clusters and clouds of ICEarth computers in unique, most effective ways, building virtual super computers, running an entirely unique yet open operating system - soon to include unique forms of encryption.
Not only are these the fastest computers in the world, but they are the most secure.
The open source development community is getting excited.
We need ICEarth BigBang One ICEarth computers to bridge the digital divide [4] - in this high definition age [5].
As the world is flooded with increasingly-cheap and free high definition cameras and imaging devices of every sort [6], and demand for high definition content grows [7], even the fastest of today's computing environments and video applications are struggling to keep pace with scale, innovations, and the demands of the medium - and HD creation is going 3D at home around Christmas time... show me a computer optimized for that, closed or open source.
ICEarth BigBang One.
Typical high definition video image management starts with very large files in many formats, and creates even larger files in different formats, that must be converted to other formats, usually edited in the process. All data should be kept as "native" as possible. This all requires more computer processing than most people have - at the motherboard and video card - faster memory and data flow than is possible with most computers - faster, different interfaces and input and output devices than in most computers - and more storage than most people have ever needed in a lifetime, so far - terabytes - all working flawlessly as one, at the same time... while staying as cool as possible.
ICEarth Bigbang One is optimized for open source professional video editing and processing, so should run about everything else FOSS as fast as possible. With this computer, a user may truly take optimal advantage of ALL the power of $ millions worth of free, open source software available in the world, today.
That is where the economic benefits of ICEarth Bigbang One really kick-in - free operating system - free professional video studio - free image processing - free Office - free Internet - free audio everything - and hot swap upgrade-ability for most computing components, if necessary... in the fastest box on Earth, built with the world's best computing components, by local hands, paid with local money kept locally, right here in Northeast Ohio.
So, you save $1,000s by going open source, and buying local, and may own the world's best computer...
Bang! This is awesome, if I do say so myself.
Most important, ICEarth BigBang One is designed to be a video processing workhorse, for maximum productivity and efficiency - time is money. It is designed to take real NEO to the next level, by allowing us to be world-class with video, to the bleeding edge, before any other place on Earth, forever.

This computer may run Windows and Macintosh operating systems, and all the software designed for those systems, for people who choose to spend $ on them.
For those who want to be free, you are now welcome to join the Cinelerra community, as well.
From the developers of Cinelerra:
Unleash the 50,000 watt flamethrower of content creation in your UNIX
box. Cinelerra does primarily 3 things: capturing, compositing, and
editing audio and video with sample level accuracy. It's a movie studio
in a box.

If you want the same kind of editing suite that the big boys use, on an
efficient UNIX operating system, it's time for Cinelerra.

Go to Microcenter and pick-up one of these ICEarth BigBang beauties now...
Can't do it?!?!
ICEarth is only available in East Cleveland, and Old Brooklyn, Ohio, by special arragement.
Being a realNEO member is one requirement.
More about ICEarth, BigBang One (and other ICEarth computers), and our amazing developers, as we take our first models through their paces.
Zoommmmmmmm