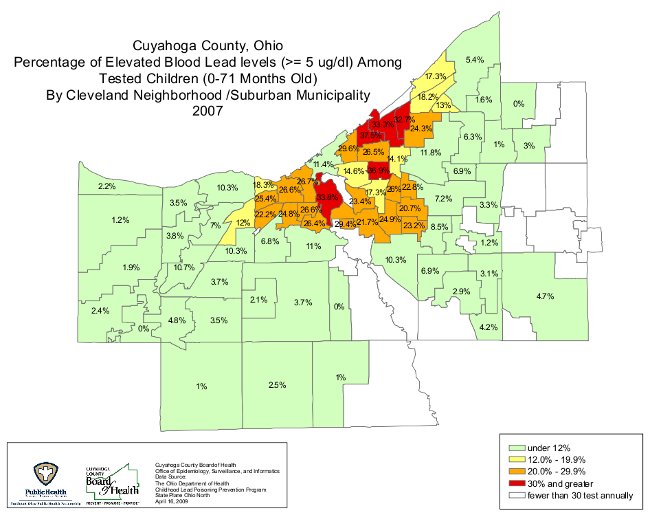 It's one of my children's birthday today. We're mourning another year with lead poisoning, It breaks my heart to see a child hurt this way, in this day and age, and that he must now be a poster child... especially as I already worked so hard to prevent this from happening for my children and all children here, over the past five years, and I was treated very poorly for that sacrifice. We all failed the region's children, in the process.
As I must now become an expert in yet another dynamic of lead poisoning - development issues related to lead poisoning - I think of how my past advice on addressing lead poisoning in this region has been so disrespected by so many - a pattern also seen in how leaders here have treated my expertise with Information Technology.
I've been entirely correct on all counts about lead poisoning risks here, including that my children would be at high risk of getting lead poisoned in my parents' 1920s mansion in Shaker Heights.
I've been correct about everything regarding information technology here as well.
Despite my advice, nothing has changed and there are no signs anything important will change with how we address lead poisoning in the region, as we are going, so we must stop going as we are going
To complete eradicating lead poisoning in Northeast Ohio in 2010, as I committed to do, in 2005, I will bring the problem solving where problems are solved best - realNEO.
I am furious to think back on how I was treated over the past five years, as I worked hard to raise community awareness of the dangers of lead poisoning - like CHICKEN LITTLE!
Same way as I've been treated regarding IT.
I proposed specific solutions to address the problem of lead poisoning in Northeast Ohio including INSPECTING INSIDE HOUSES IN SHAKER HEIGHTS - I was completely disrespected in every way in dealing with this.
I provided IT solutions here, at my family's expense, and was disrespected here.
We made too little progress as a community dealing with a lead poisoning crisis, for the past five years, and 1,000s more children were lead poisoned than necessary.
We did just as poorly as a community with Information Technology, except for with realNEO.
Don't think I'm going to let my children's leaders off easily for lead poisoning my family, and thousands of others in Northeast Ohio, each year.... or for dis'ing realNEO and my work with Information Technology. I'm done dealing with poor leaders - this year they all go.
Past leaders of Northeast Ohio had better be very prepared to handle the truth about their performance as our PAID representatives, to their graves, because the truth and reality of their poor outcomes has included lead poisoning 100,000s of children, and they will surely pay for lead poisoning mine.
Unhappy birthdays forever...
First DEMAND of our leadership, to insure we address lead poisoning in Northeast Ohio this year - all public and private property where children may go must be inspected for lead hazards. Where there are hazards, children must be removed and kept away until the hazards are addressed. No exceptions. I'd recommend making this apply for adults and pets as well, but my pledge is to address childhood lead poisoning, and this will address that.
I'll explain how to implement as a separate posting... it is cheap and easy to do, and will help grow our economy in many of the most important ways possible.
Don;t waste my time here or anywhere ever expressing sympathies about lead poisoning to my family - my family is awesome.
Just do your personal best to address the issue of childhood lead poisoning here in NEO, this year, so we may be done with this forever here.
And if people call you chicken little for raising the issue of lead poisoning in NEO, smack them in the head with a lead pipe... I have several you may borrow.