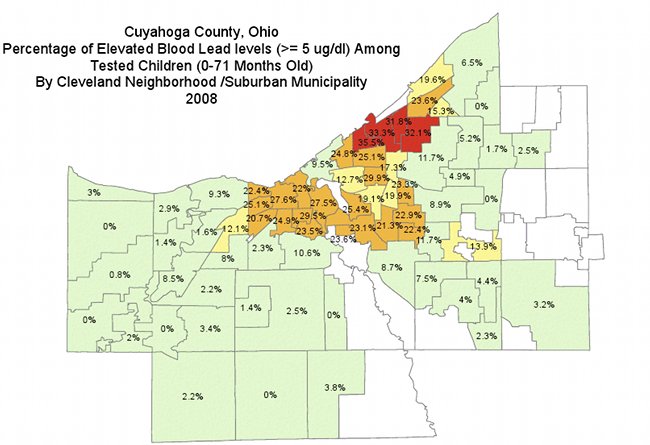 2008 Lead Poisonings of children in Cuyahoga County, Ohio - do not move here
The Greater Cleveland Lead Advisory Council has released data on children in the neighborhoods of Cleveland and surrounding suburbs who were tested and documented as lead poisoned in Cuyahoga County in 2008 - about 3,200 of our Cleveland children were KNOWN to be lost to lead poisoning - about 4,000 children poisoned in Cuyahoga County overall. As only a small percentage of our children are actually tested for lead poisoning, the numbers of children in the County lost to lead poisoning is much higher... 1,000s of victims higher.
Cleveland's worst known mass-murderer, Anthony Sowell, is only known to have killed 11 people.... yet that has captured 1000s of inches of pointless newsprint... hours of pointless news coverage... to help nobody.
Lead poisoning is barely ever mentioned in mainstream media as a problem in this highly contaminated region - raising awareness of this would help save 1,000s of children from lifetimes of suffering and lost opportunity for normalcy.
As such, the mainstream media is complacent if not conspiratorial in these 1,000s of poisonings. The leadership of these media organizations are personally responsible for this harm caused to citizens, who support the media by buying their flawed products. For shame.
The politicians responsible for the lead poisoning of over 4,000 children per year are far more serious criminals, yet they are not prosecuted for their crimes.
I expect they shall rot in hell, but that may be difficult to prove.
What is easy to prove is that in communities with competent leadership lead poisoning is entirely preventable.
Northeast Ohio has horrible leadership, and has for long enough to have poisoned 100,000s of our children, and destroyed our public health and economy.... all to help the interests of a few people who were responsible for covering the Earth in lead, and their lawyers.
If You Are A "Politician" In Northeast Ohio Not Committed To Lead Poisoning Eradication, You Must Resign.
There is considerably more lead poisoning data you never saw before linked as attachments below - look up your neighborhood and then your political leaders and thank them for killing our children and economy - or attack them for that... your choice, citizens.
I'm attacking them for lead poisoning my family until they are ALL GONE, and lead poisoning is truly eradicated here for all, forever.
The current local standard of 5mg/dl to indicate lead poisoning is still way to high, and no amount of lead is safe or normal in a child's body - average ambient childhood lead poisoning levels should be well below 1mg/dl, as caused from broad environmental pollution alone. Anything higher is the results of source point dangers in the child's personal space, and preventable with good community awareness and activism.
We have not had good community awareness and activism about lead poisoning here, and you see the results, as real as may be.
Our political "leaders" should stop wasting citizens' time and money trying to fix the education and crime problems here, if they aren't serious about solving our greatest crime... the lead poisoning of 1,000s of our children.
No more elections shall pass without the candidates addressing this issue, if I have my say at the table.
If you don't want to address the harm lead poisoning causes our children, do not run for political office in Northeast Ohio, or to represent us at any level of government, to the White House.