This week, I was thrilled to receive the following forward-thinking message from Nachy Kanfer, Campaign Representative, Midwest States, Sierra Club Beyond Coal Campaign:
Hi Norm, I think we should take down Cleveland Thermal. Thoughts?
Cleveland Thermal is a major private out-of-state-investor-owned [1] downtown Cleveland and regional air polluter that burns 10,000s tons of coal each year... emits 1,000s of tons of pollution on Clevelanders and the surrounding world each year... to benefit only large real estate investors and corporate, institutional and government customers - much like the private, out-of-license "district" coal-burning Medical Center Company (MCCO) plant polluting the community excessively [2] a few miles away, in University Circle.

Medical Center Company (MCCO) coal powerplant in University Circle, harming residents and
workers in the densely populated and economically distressed surrounding neighborhood
REAL NEO... YOU READ ABOUT MCCO HERE FIRST [3], AND WE ARE SHUTTING THEIR COAL-BURNING DOWN!
Now, read and believe this... the next step in really making the future better for Northeast Ohio and the world is taking down Cleveland Thermal.... and that will make the region and Cleveland truly safer and better for residents forever after... it will save lives here forever after [4].

The analysis indicates that even with the first phase of the CAIR rule in place, the nation's power plants still cause a broad swath of death and disease across the coal-burning Midwest, the South and the Mid-Atlantic region. Table 2 shows state-level results for those states with the highest incidence of adverse impacts. Not surprisingly, states with large populations in close proximity to many coal-fired power plants fare the worst.
For the past year or so, the realNEO community and Sierra Club have been fighting renewal of licensing for the MCCO coal burning facility [5] and it is safe to say that awareness and pressure we created have forced MCCO into a position where they will stop burning coal many years sooner than they had planned... and we derailed MCCO plans to expand burning of coal in their surrounding neighborhood.
realNEO is a real coal killer... so it is safe to say with support of the Sierra Club we may "take down" Cleveland Thermal as well.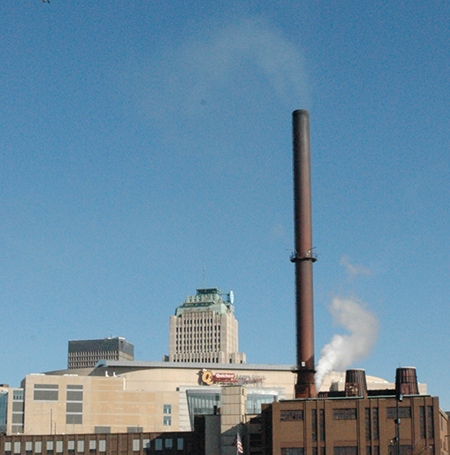 In fact, I advised my corporate counsel today to warn his clients that coal burning at Cleveland Thermal is going down... and Northeast Ohio is truly moving beyond coal (and legalizing hemp, to help provide biomass to replace coal fuel here [6]).
To Nachy, regarding shutting down coal-burning at Cleveland Thermal, I replied:
I agree - they are owned by a private investment group I believe - do you know anything about their licensing, operating issues, etc...
Nachy replied:
I'm looking into it. As far as I can tell, the two Cleveland Thermal facilities (one coal-burning, one oil/gas-burning) are covered by a single operating permit - and the operating permit seems to have expired in 2008. If it was ever renewed, I can't find a record of that.... If this is the case, though, there are legal steps we can take to force the agency to act on the permit renewal, which puts public pressure on the company in the same way we did with MCCo - public hearings, newspaper articles, etc.

I want to make northeast Ohio a Coal-Free Zone, ultimately. Will that solve all the problems of environmental injustice in northeast Ohio - not even close; but it's a big step in the right direction. And stopping the burning of coal in Cleveland also shows our politicians that they can get re-elected even without coal money lining their pockets.
I replied:
I did some research on the ownership of Cleveland Thermal [7] a few years back - they have been a sponsor of local sustainability efforts [8] here and at one time they and GCBL were really pushing trash incineration [9]... I do not believe the subject is dead.

As I recall Cleveland Thermal was divested from East Ohio Gas (probably to escape responsibility to EPA for permitting of that coal plant) and is now owned by some private investment group based in Greenwich, Con... although I recall a Chicago connection as well... probably all leading to cutthroats in Cleveland, and Jones Day. Cleveland Thermal serves most major buildings and so enterprises and even government agencies downtown - including, I'm sure, the Plain Dealer and other media facilities - they save all those private interests money on heat and A/C so those enterprises and government are incented to let Cleveland Thermal pollute.

I strongly support going after their permit and am ready to battle them on renewing that - and we can win that battle. Raising the issue at the Cleveland Thermal level will concern many more citizens in more parts of the cities - now the yuppies can get stirred up about something important for a change, like their health.

I agree that Cleveland needs to go no-coal-NEO - it will make a huge difference in air quality. NO MITTAL TOO!

I'm focused on fighting coal at the far ends of our upwind flow, from the Mexico border to the Rockies - increasingly focused in the Boulder area. There are regions of the country very ready to develop hemp biomass and I plan to be a part of that.... making this happen elsewhere will drive developments in Ohio.

As for biomass in Cleveland, I was asked to a private club to meet with a group of very old Cleveland power brokers - I'd call them MCCO/UCI trustees - and they want to set up a plasma energy torch incinerator as part of the opportunity corridor, which would replace or supplement MCCO's current coal plant, and the planned new plant, and serve the Clinic as well - they see trash as our greatest biomass resource and want to take a lead with that technology... which may burn coal as well.

So expect more fun and games from the REALLY SMART PEOPLE in Cleveland, over at Case... they aren't done getting creative with coal here yet.

Let me know what you find out about Cleveland Thermal being OUT OF PERMIT!!!
Cleveland Thermal [10] is a private coal-fired steam generation polluter, with several plants in downtown Cleveland, serving only commercial customers. They are remotely owned by Ancora Management LLC, an investment management company "that makes and manages investments for a private equity company in operating businesses such as Cleveland Thermal. Ancora is located in Greenwich, CT". Their 1999 Pollution Emissions Scorecard [11] here in Cleveland was one of the 10 worst in Cuyahoga County: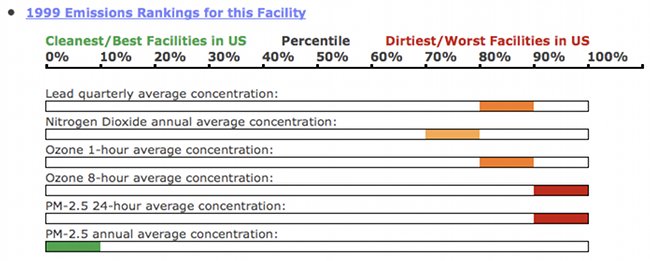 If you think the battle to shut down coal-burning at MCCO has been interesting, wait until we start the battle against coal burning at Cleveland Thermal.
Citizens of real NEO, we have an historic fight ahead, and we have just begun to fight.
I think we should take down Cleveland Thermal. Thoughts?