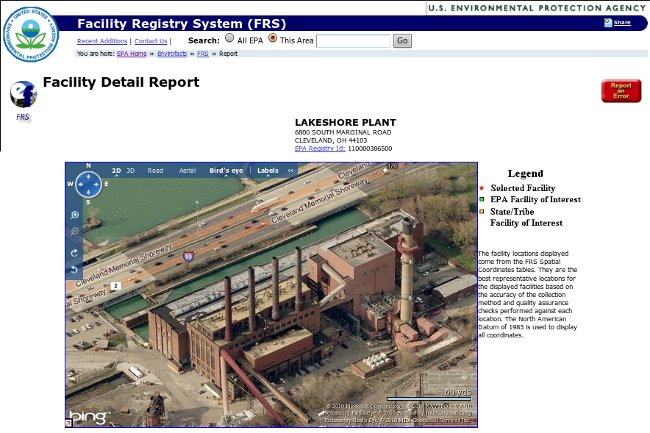 The Cleveland Plain Dealer reported today Birders to lose favorite perches, birds lose havens when 2 power plants close [1], whereby the PD takes some of the best economic development and public health news of Clevelanders' lifetimes - "plans by FirstEnergy Corp. to close lakefront power plants at East 72nd Street in Cleveland and in Eastlake in Lake County" (and two others on Lake Erie, apparently) - and presents that as bad news for bait shops, birds, ecotourism and the region.
The PD doesn't even mention that what this news really means for Clevelanders is NOT BEING EXPOSED TO 148,141 pounds of toxic chemicals spewed by Lakeshore into the air Clevelanders breathe each year [2], and that will save lives and make citizens smarter, healthier and more productive in Northeast Ohio. Better air quality will lead to higher property values and reduced public health costs, and that will make this region wealthier and more attractive for residents, who will have a higher quality of life here with cleaner air quality. People will have fewer reasons not to move to the region, and more reasons not to leave.
Why FirstEnergy is shutting down these plants is certainly telling about Ohio's economy... "FirstEnergy spokeswoman Ellen Raines said the shutdowns are the consequence of a slow economy, declining demands for electricity and future environmental regulations that could require costly anti-pollution scrubbers on smokestacks to reduce chemical emissions"... as is also the case for FirstEnergy's Burger coal-burning plant, also being shut down for lack of demand [3].
But the Cleveland Plain Dealer's warped spin on this breakthrough for Clevelanders is that this is bad news for the environment and local economy - the PD reports of supposed GOVERNMENT environmentalists who are upset these deadly plants are shutting down....
"Thanks for ruining my weekend," said John Pogacnik, a naturalist with the Lake Metroparks and an inveterate lake-watcher. "The winter always seemed to go quicker when we had the gulls to look forward to every weekend."

On most winter days, birders bundled against the frigid winds and blinking away tears could often be found lined up along the breakwalls at the warm-water release sites, peering through high-powered spotting scopes.

Jim McCormac, an avian education specialist for the Ohio Division of Wildlife, called the power plants "ecotourism magnets" that draw birders from across the Midwest. He wrote an article on Northeast Ohio's power plant birding that is scheduled to appear in the next issue of Birder's World magazine.

"This is a real bummer," McCormac said. "The openings in the lake caused by those warm water outflows from the power plants created some of the best and easiest birding on the entire Great Lakes in winter. Of course, it is an entirely unnatural phenomenon.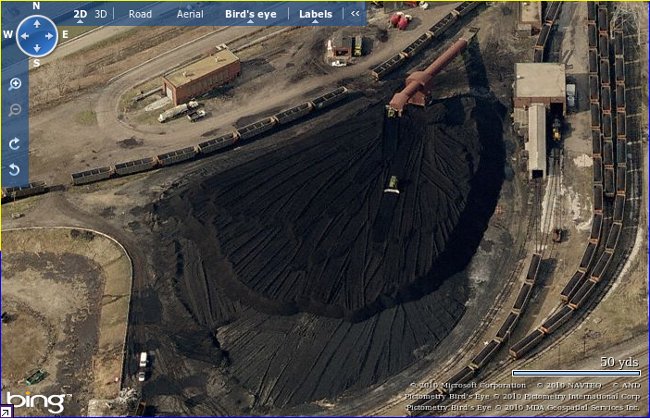 Calling the ecological harm of these First Energy coal-burning death-furnaces an "unnatural phenomenon" is beyond an understatement. Ohio power plants burn millions of tons of coal, creating millions of pounds of air, water and landfill pollution, as tracked by the Environmental Protection Agency Toxic Release Inventory... for the Lakeshore Plant [4]linked [4] here [4], and featured below.
Highlights of Lakeshore toxic chemicals released into Lake Erie include 1128 pounds of barium compounds in 2009 - 16.3 pounds of lead compounds... 750 pounds of manganese compounds... .1 pounds of mercury compounds in 2003 (the last year with data listed for those compounds) - all certainly absorbed by area birds, fish... and people who eat them.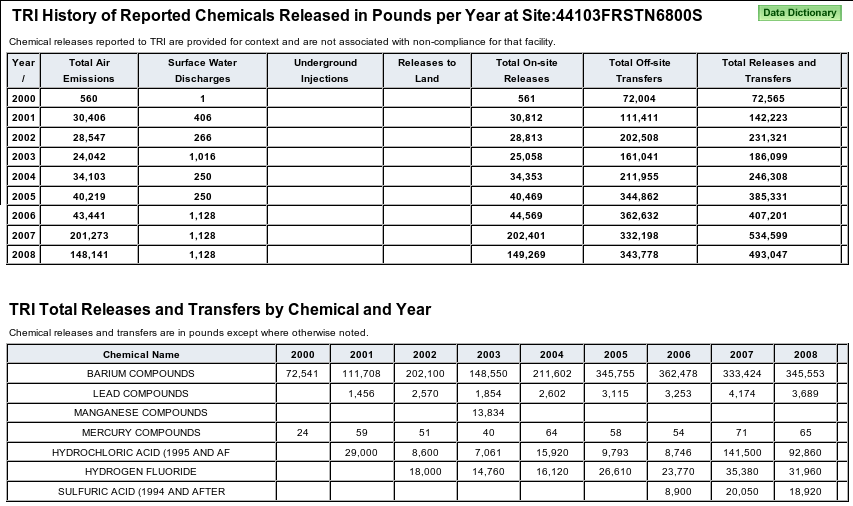 In addition to direct water pollution releases, in 2008 Lakeshore spewed 148,141 pounds of toxic chemicals into the air Clevelanders breathe - and sent 343,778 pounds of toxic compounds to landfills.
Over the last decade, Lakeshore sent into the SURROUNDING NEIGHBORHOODS AND TRANS-BOUNDARY AIR 1,000s of pounds of Barium Compounds, over 100,000 pounds of Hydrochloric Acid, up to 350,000 pounds of Hydrogen Flouride, 100+ pounds of Lead Compounds, around 50 pounds of Mercury Compounds, 100,000s pounds of Sulfuric Acid, with some Dioxin and Polycyclic Aromatic Compounds on top... all in a typical operating year.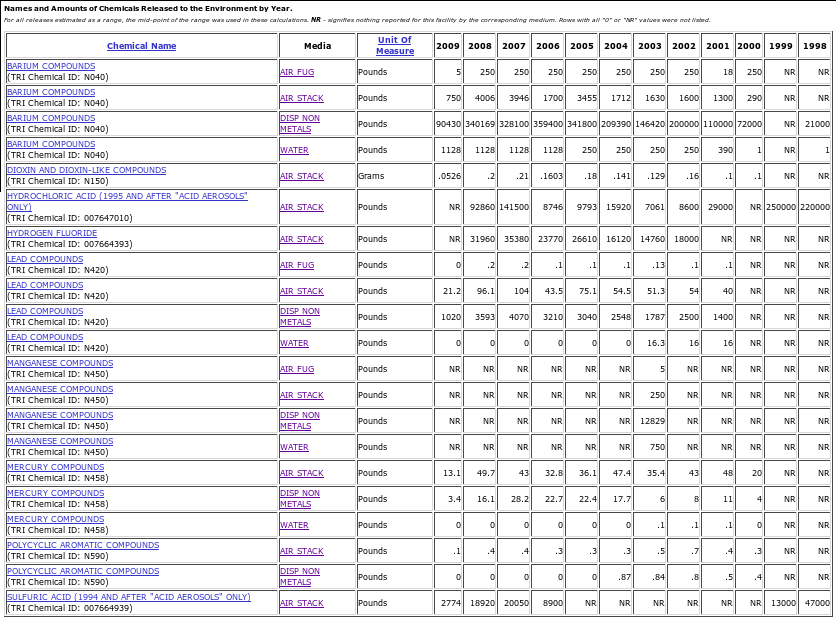 Add fly ash and coal dust fugitive emissions, and you start to understand no birds, birdwatchers, fish, fisherman, or citizens should live, work or play within 100s of miles of such a death trap.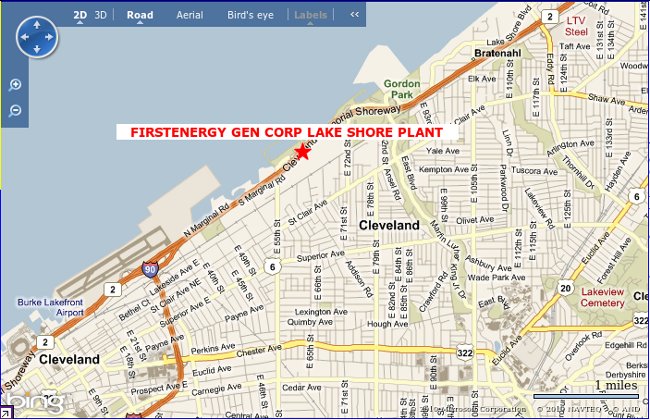 Unfortunately, over 100,000 people (including my family members) live within three miles of this poison factory, and our demographics are a classic profile of environmental injustice victims in the impoverished shadows of dying post-industrial America [5] - 90% minority... nearly 63% of households earning under $25,000 annually... 40% of residents below poverty level... less than 30% of population with any college education... 87% of housing built before 1970... less than 35% owner-occupied... 30%+ children.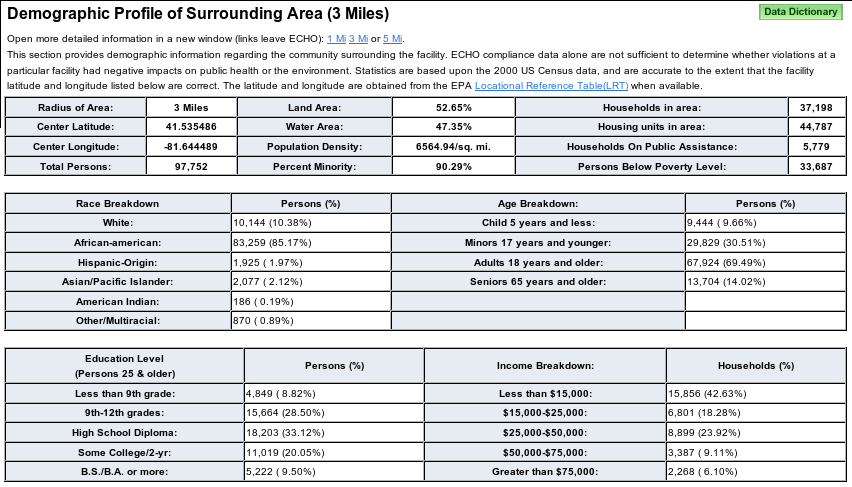 It is no surprise the neighborhood immediately surrounding this plant - St. Clair Superior - has the highest childhood lead poisoning rates in Ohio [6], and perhaps America, at around 35% of children testing with elevated blood levels of lead in excess of 5 micro-grams per deciliter.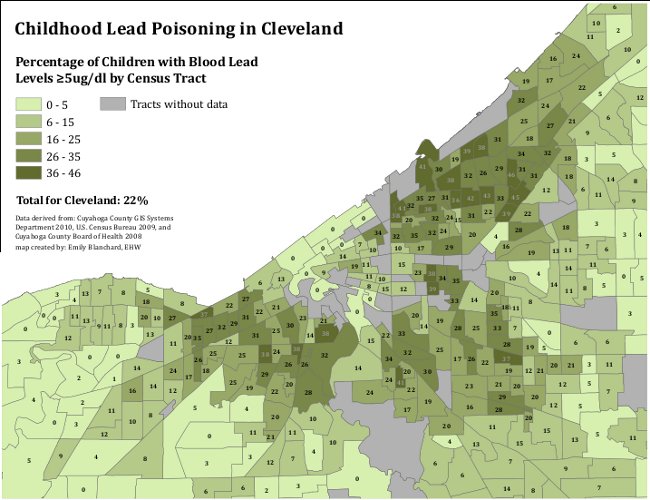 Of course, it is not only the residents immediately surrounding coal power plants who are harmed by pollution.
As I previously reported on realNEO, Air pollution may shorten lives in real NEO by 14+ years - reducing power plant pollution will have almost immediate benefits [7]. The chart above shows citizens of Northeast Ohio have the worst level of mortality from coal fired power plants in America - based on an online risk assessment tool accompanying the September 2010 Clean Air Taskforce study The Toll From Coal [8] - An Updated Assessment of Death and Disease from America's Dirtiest Energy Source. As the introduction states: "Among all industrial sources of air pollution, none poses greater risks to human health and the environment than coal-fired power plants – perhaps most consequential of all from a public health standpoint – fine particle pollution."
Fine particles are especially dangerous because they can bypass the body's defensive mechanisms and become lodged deep in the human lung. Indeed, research also indicates that short-term exposures to fine particle pollution is linked to cardiac effects, including increased risk of heart attack. Meanwhile, long-term exposure to fine particle pollution has been shown to increase the risk of death from cardiac and respiratory diseases and lung cancer, resulting in shorter life-expectancy for people living in the most polluted cities compared to people who live in cleaner cities. And although research suggests fine particles reduce the average life span of the general population by a few years, the life of an individual dying as a result of exposure to air pollution may be shortened by 14 years.
The hopeful news for Northeast Ohio in this science is:
Because most fine particle-related deaths are thought to occur within a year or two of exposure, reducing power plant pollution will have almost immediate benefits.
I would therefore expect the Cleveland media and leaders would be celebrating reducing coal power plant emissions in the region as a victory for citizens, rather than a problem for birds.
Fine particle pollution from existing coal plants is expected to cause nearly 13,200 deaths in 2010. Additional impacts include an estimated 9,700 hospitalizations and more than 20,000 heart attacks per year. The total monetized value of these adverse health impacts adds up to more than $100 billion per year. This burden is not distributed evenly across the population. Adverse impacts are especially severe for the elderly, children, and those with respiratory disease. In addition, the poor, minority groups, and people who live in areas downwind of multiple power plants are likely to be disproportionately exposed to the health risks and costs of fine particle pollution.
Poor, minority... people who live in areas downwind of multiple power plants... describes the Lakeshore plant neighborhood perfectly... meaning we are likely to be disproportionately exposed to the health risks and costs of fine particle pollution
Shutting down the FirstEnergy Lakeshore plant will provide significant health and economic benefits to residents of Northeast Ohio. Shutting down three additional FirstEnergy coal burning plants on Lake Erie, and R. E. Burger, in Shadyside, Ohio [3], shall improve the quality of our air and our public health significantly.
In addition to eliminating the pollution from FirstEnergy coal plants in Ohio, citizens are acting to shut down coal burning at MCCO, in University Circle [9]... and at Cleveland Thermal, in the downtown Cleveland Flats area [10]... and at the Arcelor/Mittal Cleveland Works steel operations a few miles south of that [11]... and the combination of all that environmental change in Ohio will make this region the healthiest it has been in over a century.
It is important to note, regarding the FirstEnergy coal plant shut-downs just announced by the PD... "Raines said the Eastlake and Cleveland plants, along with two others on Lake Erie, could be fired up to temporarily cover emergency power needs." In other words, the freedom to pollute is still available to FirstEnergy, should demand for dirty power increase.
To protect future generations, action should be taken to shut down coal burning operations at the FirstEnergy Lakeshore plant forever, by preventing renewal of their EPA permit, which expires in July, 2011.
And, realize the Cleveland Plain Dealer surely stands to protect FirstEnery's right to pollute as long as possible, as they are great champions of the powerful coal interests based and represented by powerful lawyers in this region.
As I observed, in Air pollution may shorten lives in real NEO by 14+ years [7]:
We aren't well informed about these realities in Northeast Ohio, because the media and leadership here are corrupted by coal [12] - politicians are related by blood to coal [13] - the media is sold-out to coal....