Cleveland Institute of Art BA and Kent State University Cleveland Urban Design Collaborative planning Master Joseph Stanley
had a more intelligent design [1] for the future of Cleveland than the leaders of our community have embraced - BIG SURPRISE... he's not an idiot!
Dear Governor Kasich:
Show REAL NEO You Are Serious About Ohio's Future By Ending The $3.5+ Billion ODOT I-90 Bridge Fiasco Here!
I'm sure, with little effort, you may find leadership in Columbus and the great-big-real-world to brief you on the runaway stupidity and corruption surrounding the "planning" by corrupt "idiots", as you say, at Ohio Department of Transportation (ODOT), to replace our poorly maintained I-90 bridge over the polluted Cuyahoga River into Downtown Cleveland's Innerbelt "Trench". My good friend Ed Hauser was leading the battle against this stupidity [2] before he was killed by pollution exposure here, and I am asking you to take his place fighting for our citizens. The war is well documented here on realNEO - and nowhere else on Earth. Google "realNEO ODOT Dream" or search within realNEO for links to ODOT, Bridge, Cleveland and Hauser.
To speed-up your assessment, I include below some links I have surfaced from our years of battling government stupidity, corruption and incompetence with ODOT here [2], as well as my most recent posting on realNEO about this matter.
Put simply, corrupt Ohio and Cuyahoga County leadership [16] have taken a bridge maintenance-failure or minor replacement project and made it into a cash cow for their most bloated union friends, to the tune of what will be I'm sure over $4 billion in wasted Ohio taxpayer funding, to rip apart our community further and put in place a poor solution for the region's future. If we need a new bridge here at all - which I have not seen proven by real engineers - we do not need TWO new bridges - we do not need to bloat the project-cost with BIKE LANES on city streets, funded by ODOT taxpayers, and we really don't need the bridge connected to the freeway grid [17] as a primary through-traffic interstate route polluting downtown Cleveland AT ALL.
And all our planners and leaders are too corrupt and cowardly [18] - idiotic - to tell you the truth about that. Just ask Strickland's Infrastructure Czar for Ohio, the Cleveland Foundation's Ronn Richard [19].
"FREEWAY" planning has been so incompetent and corrupt here for so long [20] we now are a spaghetti-bowl of toxic throughfares that have sprawled, poisoned, segregated, demolished and polarized our neighborhoods, leading to all the wrong places, and what we need is a complete realignment of our grid and infrastructure - a job for heroic leadership not possible in Northeast Ohio improper. [21]

Already, as a result of idiots' failed planning here - in addition to our I-90 fiasco - we have an I-490 to nowhere, designed simply to connect West Siders to a coerced, corruption-planned Cleveland Clinic "Opportunity Corridor" driveway [22] (much like the Healthline Project primarily benefiting the Clinic [23])... an Express-Lane-enhanced, developer-corrupted vehicle sewer across the East Side of Cleveland called I-271 (to benefit abusive powers like Jacobs Development and Eaton)... an underutilized Jennings Freeway that just side-tracks I-77 (to benefit the developers of Steelyard Commons and such [24])... and a community long-torn to shreds by such stupid planning, leaders, and their racist profiling and pollution [25] - they have been in-sum the greatest curses and wastes of public funding in the history of Cleveland (the leaders and their poorly engineered mobile pollution sources). Shut their bullshit down - fire everyone involved with ODOT (and all other) planning in Northeast Ohio (they are probably all related to Ted Strickland anyways), and start from scratch.
As Cleveland leaders openly acknowledge all their planning is to REIMAGINE and LANDBANK CLEVELAND [26], we don't need the scale of freeway infrastructure conceived for here, and we must right-size our interstate routing as well. The primary objective for the future should be to route as much THROUGH TRAFFIC that is not destined for DOWNTOWN Cleveland to freeways not burdening our local grid with interstate trucks and their pollution. All through truck and car traffic not having business in DOWNTOWN Cleveland should be diverted AROUND DOWNTOWN CLEVELAND via I-480, Jennings, I-77 and I-490 - only traffic to downtown should be routed into the city - Trucks have GPS and truckers know how to follow directions... no problem. No heavy truck traffic should be allowed across the I-90 span and through the trench unless for local business and absolutely necessary - that will reduce the load on the current I-90 bridge so significantly I suspect the current span will prove sufficient and maintainable forever [27].
This will remove from the air Clevelanders breathe a measurable amount of deadly poison - we are in FEDERAL non-compliance with EPA smog, ozone and particulate pollution requirments [28]... not that the idiots in local, state and Region 5 EPA pollution control for here, and ruling (ruining) Northeast Ohio in general [29], seem to care.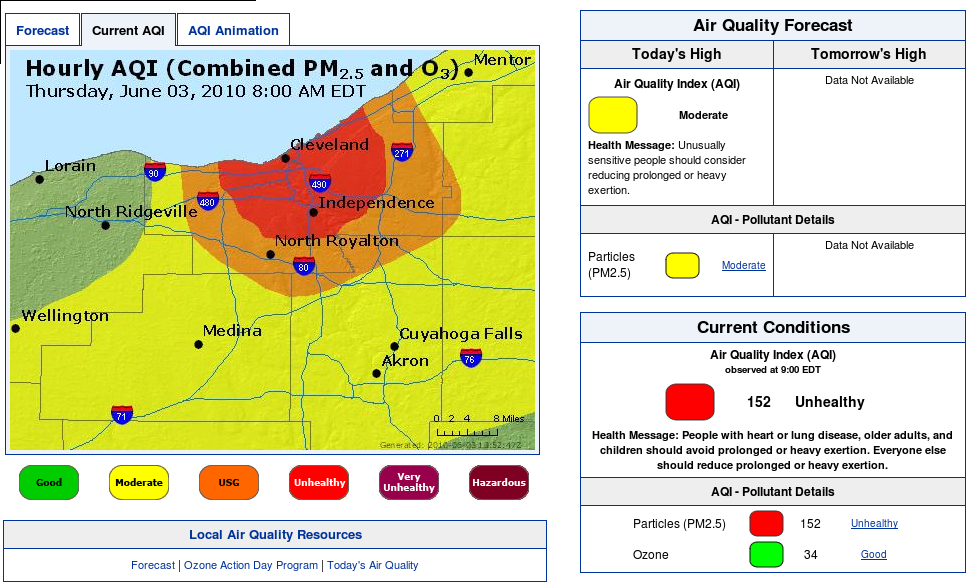 Why the hell is air quality in Cleveland and so Northeast Ohio, the region, the state and the world so "UNHEALTHY", while we sleep,
and why is it so unhealthy RIGHT NOW - and HOW UNHEALTHY really, where, as indicated above [28]?

You will thus save Ohio $billions in unnecessary, bloated, polluting, corrupt make-work construction as you add many years to the lives of the people in the surrounding community [30] - reducing healthcare costs by $billions more - adding to the prosperity and well being of the community by $ billions more - I would project a 20-year benefit in the $10s billions for our community and Ohio. This may well even put the region in EPA compliance for Ozone pollution, at least... our deadly particulates are the fault of point source polluters like Mittal, Cleveland Thermal and MCCO coal powerplants [31], which must be cleaned up as well [32].
Trucks with no business in DOWNTOWN Cleveland MUST bypass DOWNTOWN Cleveland [17], simple as that - I'm sure they hate our Trench and pollution anyways... and we hate having them clog our roads and the air we breathe.
Trucks serving Cleveland will have more than abundant access routes, as our freeway grid is already far-overbuilt to support a 1,000,000 person community we shall never be again... being less-than-half that now. Local residents and area commuters will have better, faster access to where they need to go, and the community will avoid the lifetime of irreparable economic harm and environmental and historic destruction that will result from ODOT's current wasteful, destructive, and idiotic plan to build two new bridges nowhere new.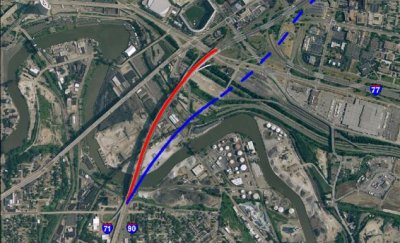 As you seem concerned about the costs of unions to our community [33], please consider that the only real purpose of any of the current ODOT plans is to support union cronyism and corrupt political interests here - to pour millions of tons of highly polluting concrete [34] - waste millions of tons of scarce steel - burden more citizens of the region and Ohio for union bosses, once more [35]. While I respect the union tradespeople, and appreciate the value of construction, I do not respect constructing literal-windmills in all the wrong places, the wrong ways [36], to benefit only the wrong people, at far-excessive cost and pollution burden to taxpayers.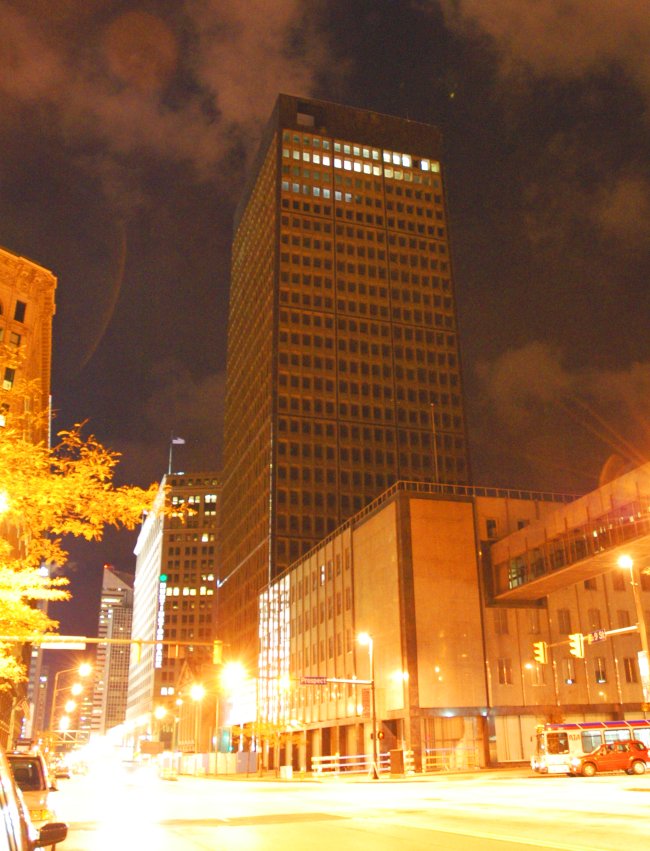 Do some digging outside yesterday's corrupt ODOT and Cuyahoga-mafioso world [37] - hire some OUTSIDE consultants - and get progressive about transportation here.
Not by wasting scarce tax-dollars on the wrong high speed rail routes, as you saw... or the wrong bicycling messengers [38]... but by doing what leaders here were to corrupt, dishonest and/or idiotic to do [39] - do a complete "reimagining" of our entire regional interstate planning vision... starting with the I-90 Bridge fiasco. Keep the bicycle messengers and failed planners of this region locked out of the building, throughout the process - you see the best they have to offer.... ridiculous bloat and self-interest not even good for the messengers.

GCBL "Reimagining" of a bloated, idiotic bridge-to-nowhere for Cleveland's failure [38]
Our leadership and planners have failed citizens here [40] - you need to save us from the economic and environmental disasters they are forcing down the throats of citizens of Ohio. If you need more opinions on this, ask the taxpayers of East, West, Central and Southern Ohio what they think of wasting $4 billion or so on more stupidity and union corruption in Cleveland. I suspect they have had enough!
I have had enough of these idiots [41].
So had Ed [42]!

Nightmare in Cleveland

Ed Hauser drove community opposition to the current ODOT bridge planning disaster [8],
just as he drove opposition to port planning on Whiskey Island, and demolition of the Breuer -
seen here in November, 2005, videotaping Paul Alsenas describing a better vision HE lost

As Steven Litt points outs out in the Plain Dealer today, as he slams all the designs and design processes [45] leading to the $3.5 billion boondoggle that is the Cleveland ODOT I-90 bridge replacement disaster...

Several years ago, ODOT rejected a brilliant urban design proposal by Cuyahoga County Planning Director Paul Alsenas, which called for building a single new east- and westbound span further south of the existing right-of-way.

The Alsenas concept would have opened up new land for development around Gateway and shortened the total length of the bridge, producing savings in construction and long-term maintenance.

Engineers from the firm of Burgess & Niple, then leading the project for ODOT, said the Alsenas proposal was impossible. Sadly, no one in government or community development sought a second opinion.

Cities need ways to break the design monopoly held by big government agencies such as ODOT. Failure to find the best ideas for bridges and other big pieces of infrastructure means living with mediocrity for decades. Thanks to ODOT, it appears Cleveland is headed in that direction on its new bridge.
I can confirm Litt's account, as Litt and I were at the Excellence Roundtable held in November, 2005, with Ed Hauser, whereby we had Alsenas discuss this vision for the future of this ODOT bridge replacement [5], now a disgrace.
At the time, I concluded:
Current ODOT design is presented, with them having added a section of cable stay to be able to say they have provided a "signature" design – "throwing Cleveland a bone" - very poor concept and execution

When asked if ODOT can be stopped, the group belief was if the city/region really comes behind this opportunity - "takes ownership" - and Senator Voinovich gets on board, we definitely can turn this around

Question comes up of what is a signature bridge?

We have many great bridges, like the Lorain/Carnegie Bridge. So our next bridge – which will be here for the next 100 years – should be the latest technology – new icon for future of city/region

Must focus on process. ODOT is railroading process – at one time ODOT was considering the Southern plan and then suddenly this Summer said it was unacceptable – only reason they have given is it would impact the Greek Church in Tremont, which it will not.

Question comes to where ODOT stands on all this now. Feeling is they must be realizing they have problems with their plans. The Roundtable attendees planning the Southern Route believe the ODOT people in Cleveland are good people and want these right outcomes, but there are obstacles in Columbus that are political.
I spoke with many leaders in "government or community development" about this incompetent bridge planning process at that time - years ago- and was awed by their stupidity... or was it corruption?!?!
Obviously, if it was all up to Senator Voinovich we were screwed from the beginning... as Voinovich proves to be human garbage [46]... he wanted this garbage here... so it is no surprise he failed this community on this issue. Is that what screwed us completely... our cowardly leaders selling out to Voinovich... is there more [1]...?

Cleveland Institute of Art BA and Kent State University Cleveland Urban Design Collaborative planning Master
Joseph Stanley had a more intelligent design [1] for the future of Cleveland than the leaders of our community have embraced
The planning of this bridge has been so pathetic [10]... where to begin...?!?! Name names of the failures who brought this upon us.
Start with the leadership at Gateway Development Corporation, who wanted a tight bridge line to contain development to their area... and continue along through the Midtown trench area only concerned with their off-ramps... past ugly-bridge sponsors Cleveland State University and Kent State Center for Urban Design who should challenge flawed planning... to see all who failed this community on this project, and all who must now live with harmful results.
Nobody in any planning organization in town spoke against this flawed process and they all seemed pleased to bend over to anything ODOT said... FOR YEARS!
I watched this planning process closely and will say that was the most uninspiring and cowardly experience I have seen here since everyone in "government or community development" went along with demolishing the Breuer... and went along with moving the port to Whiskey Island - all demonstrations every planning and leadership process of any sort here is broken [47], and everyone in "government or community development" who has a finger or say in these decisions should be terminated.
Unreal NEO planners... this DECADE has been a disgrace - you are all disgraces. Live with it.
The last time I saw Paul Alsenas - that I even realized hs was alive - was at Ed Hauser's funeral. I didn't even say hello to him, for selling the community out on this issue.... selling out Ed... this was Ed's issue - Ed's issue, and Ed's alone, as we see by this complete community failure since he died.
So was the Breuer. So Was Whiskey Island.
Leaders in "government or community development" - just another pathetic cowardly pack of stupid sell out clowns in a cast of fools running this region.
And you shall see the results, over the next decade, of wasting billions on poor community planning here... no benefit and profit for any local businesses, except save some concrete companies and some short term construction jobs, which could be applied to well planned infrastructure just as easily as to poor design.
Another Healthline disaster from ODOT... Sherrod Brown's brother Robert Brown's ODOT... Jones Day's ODOT [48].
Pathetic - on this project, our leaders and community get the complete falure they deserve... and the citizens deserve to be screwed for letting their leaders be failures. I watched this closely and this is a failure of pathetic local leadership and the citizens who have sold out their communities to fools, and nothing less.
Show me any local leaders who asked for things to go any differently than this end result - you brought this shit on yourselves... and your children will be receiving this postcard from you after they move the hell out of the shithole town you have brought upon them....
I always told Ed he was way too nice.


Cleveland Institute of Art BFA and Kent State University Cleveland Urban Design Collaborative planning Master
Joseph Stanley had a more intelligent design [1] for the future of Cleveland than the leaders of our community have embraced

Back of napkin sketch of new I-90 Bridge... blending of visioning with Ed Hauser, Joe Stanley and Ken Prendergast...

FIRST - REPLACE ALL ODOT LEADERSHIP, CONSULTANTS, PLANNERS, ENGINEERS, ARCHITECTS AND POLITICIANS WHO EVER TOUCHED THIS DISASTER.

IMPRISON AS MANY AS POSSIBLE FOR AS LONG AS POSSIBLE.

TERMINATE ALL RTA LEADERSHIP

Keep the damn bridge we already have and decommission it for highway use - the carbon footprint return on saving this embodied carbon [49] and not wasting unmeasurable more pollution buiilding an unnecessary new bridge alone is worth $ billions.

Pay the union mafia $ millions to stop crying about jobs and go do something to improve the world

Repair the current bridge for enhanced street, pedestrian AND BICYCLE traffic and add a streetcar from Gateway all the way to MetroHealth and the zoo. Make this spectacular - it will free up acres of wasted, blighted "freeway" right of ways so now Cleveland gets the big urban bicycle right of ways they want and deserve... Tremont will benefit from all this beyond words...

Restore the Central Viaduct ramparts and place a memorial to the 17 lost souls killed on the span that once stood there... where damned ODOT planners want to waste $billions

Restore the historic landmark assets there and around there as a citizen asset - including the Marathon Station, Broadway Mills Building, and Western Reserve Historical Society FIre Museum, as smart planners here envisioned.

Restore and enhance the other side of the former freeway span, now optimized for low speed human interactions - convert the Cold Storage into something great, as that will now be in a prime location ... remember... at this stage, two years from now, all our corrupt politicians will be in jail, Mittal and its pollution will be gone, Northeast Ohio will be the brightest greenest place on Earth, and the Cannabis Capital of the world, so Cleveland will be a great place to live, and real estate values with such views and city access will skyrocket...!

ENCOURAGE/FORCE ALL THROUGH TRAFFIC NOT DESTINED FOR CLEVELAND-EXITS TO ROUTE AROUND THE CITY ENTIRELY, USING THE MASSIVLY OVERBUILT 480 TO 271 suburban pollution corridor... spare Clevelanders the unnecessary fumes of ANY through truck and car traffic... our turn to beathe!

Route all legitimate innerbound I-90 traffic to 490 to a better configuration of BROADWAY (a primary gateway to Cleveland not at all utilized today) and the 77 interchanges, with some enhancements to related routes all the way through the trench.

Turn over to citizens leadership of RTA and all planning for any new high speed road construction projects, including the Opportunity Corridor and Lakefront Boulevard.

I'm sure we could do everything citizens may dream to do with transforming transportation infrastructure here for the next decade for $3 billion, and save the nation $500 million.

Disrupt IT