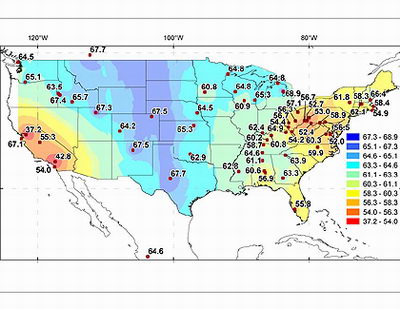 U.S. Fossil Fuel Carbon Dioxide Map (red = most polluted, blue = least polluted)
I'm certain more people than ever in history are interested in the subject of global air pollution monitoring, as a deteriorating cluster of nuclear power plant disasters in Northern Japan are already contaminating the Earth's atmosphere with deadly radioactive emissions, which will blow across the Pacific Ocean and in other directions to all points downwind until they settle back to Earth, on us, our land, in our water, and into our food-streams.
From the Wall Street Journal's Monday, March 13, reporting about nuclear fallout from the meltdown in Japan [1], which has taken many turns for the worst since then...
If the Japanese nuclear core were to melt, certain radioactive materials, such as iodine, strontium and cesium, would also be released. These particles are one-quarter the size of a grain of salt and can be carried by winds. The larger the grains, the more quickly they would fall out of the air.

Dr. Kemper noted that the wind tends to blow west to east in Japan, and so a good deal of the radioactive particles would drift out to sea. Consequently, there probably wouldn't be much fallout in Japan's densely populated areas to the south.

Unlike an accident that releases chemical toxins, a nuclear-plant disaster has one advantage: Radiation levels can constantly and precisely be measured.

Since the signing of the Comprehensive Nuclear Test Ban Treaty in 1996, various countries have put in place devices that can monitor radiation levels. So if there was any significant wind-borne fallout from the Japan plant, it would likely get noticed quickly.
Living in Cleveland, where the air is constantly bombarded with toxic substances nearly as bad as radioactive emissions - causing 1,000s of accelerated deaths in my region of America each year - I have been concerned about air pollution monitoring for several years... since I learned air pollution monitoring in Northeast Ohio has historically not worked correctly.
Why do I hate the leadership of OHIO?!?!?! [2]

Why the hell was air quality in Cleveland and so Northeast Ohio, the region, the state and the world so "UNHEALTHY" last night, while we slept, and why is it so unhealthy RIGHT NOW - and HOW UNHEALTHY really, where, as indicated above?
While the U.S. Environmental Protection Agency has strict Federal laws regulating pollution in America [3], it is up to the states to enforce those laws, including providing effective monitoring of toxins in the air. In Ohio, citizens have been subject to the Ohio EPA and their local authorities for air pollution monitoring - in Cleveland, our health depends on the effectiveness of our Mayor, Frank Jackson, and his Cleveland Department of Health, for our air pollution monitoring, and I have determined that has been ineffective in the past [4].
I have asked the Federal EPA to investigate why Cleveland - one of the most toxic communities in America - does not have the best air pollution monitoring in America. Specifically, I have asked them to address the following concerns:
You suggested we speak with someone at the EPA about air monitoring. Here are some thoughts on what I would like to determine and see happen with our monitoring.

Air Quality Monitoring Issues:

As I have documented, there has been a long history here of broken air quality monitoring - data that has been declared unusable for years, at one stage - many broken monitor issues throughout the past year that I paid attention closely - one monitor disappearing off the map - and irregular, frequent outages of data-reporting - data appearing to be changed manually. I have saved 100s of screenshots to document that. When you have chosen someone to discuss this with us, I will send them links to information on our monitoring issues, and any other documentation that is helpful.

I would like to see an outside analysis or audit of the security of our environmental data, log files, processes, backup and recovery, etc - who has access and what processes are in place to protect integrity - and benchmarks of the reliability of our air quality monitoring equipment, service, staff and data for as long back as possible - % availability of each monitoring device and data stream for every station, reasons for outages, and durations of outages - review our process for everything - and a comparison of that to other Ohio and out-of-state comparable monitoring situations - best-in-class - and what is state of the art?

I would also like to see an analysis of the placement and selection of monitoring equipment in place here relative to current pollution sources and EJ concerns, and best available science - do we have the right monitors in the right places to really assess impacts of major mobile and point sources - and to differentiate - and to measure and analyze direct impacts on citizens - especially EJ victims.

Are we getting bang for our buck - are local and federal dollars being spent well - are staff doing their jobs - are we applying for available funding to always push for world-class environmental monitoring here - does our leadership pursue outside certifications, etc... participate in expert programs - push the envelop.

Do we inspect well, relative to monitoring?

If there is any other environmental monitoring data available to the EPA from sources not currently available to the public, I request that be made available to the public, so we may see the latest science and data on our air quality - I believe there has been supplemental monitoring in Cleveland in the past few years and I have not seen any results reported.

For what data is determined to be actual and accurate - and from equipment and locations to standards worth maintaining - I would like to see the pollution data included in a GIS system with other valuable data from our community - as much pollution and environmental hazard data as possible - TRI - gas wells - along with regional and local econometric data - county assessor data of property values - data of childhood lead poisoning incidences - asthma sufferers - diabetes - Alzheimer's - and income, education attainment, crime ... all the demographic data possible - we should be able to include weather data - wind - rain/snow - I want our environmental monitoring to be the state of the art.

Once we may begin modeling current EJ concerns we'll see gaps and opportunities for refinements and add monitors to better understand real environmental impacts - use world class science in world class ways.

We have plenty of talented, expert IT, public health and environmental planning people to execute this in Cleveland - excellent universities - and a will to lead with information technology and the environment - be the Green City by the Blue Lake - and if empowered to do something like this they shall excel.

Hershel Daniels, Nachy Kanfer and Neil Carman will add value to the discussion on environmental monitoring in Cleveland, when that is scheduled, so they are copied here.

Please feel free to pass this on to whomever will represent the EPA in that discussion, and they may reply to all for scheduling..

Best regards,

Norm
I'll keep the realNEO community posted as we progress through this environmental monitoring analysis and optimization process - I don't see why everyone in the community who is concerned about their health shouldn't be concerned about our air pollution and monitoring, and active to make our monitoring and public health better - I assure you these stated objectives are consistent with the mission of the Federal Environmental Protection Agency [5], and shall be addressed.
It seems an issue we must add to this list of monitoring concerns is how effective is our radiation exposure monitoring, in the Cleveland-area, as there is certainly increased radiation going into the atmosphere now, which may impact Ohio, and there are many old nuclear power plants in the region, which are as likely to have a disaster as any nuclear power plants in the world - obviously, none of the world's nuclear plants are planned to fail, so all failure is of equal extreme, abstract, unknown uncertainly, and so as likely here as anywhere surrounded by nuclear reactors in the world.
One of the most interesting air pollution monitoring methods I have found demonstrated in the world - which may well work for measuring radiation trends, using a different analytic process - came out of University of California, in 2007: "Scientists at UC Irvine have mapped fossil fuel air pollution in the United States by analyzing corn collected from nearly 70 locations nationwide"... which concluded... "California and the Ohio Valley had the most fossil-fuel-emitted carbon dioxide, while the Colorado region had the least (chart at top of posting and larger below)."
I include the UC News of this monitoring development [1] below (the study is linked here [6] - 214 KB .pdf [6]) and look forward to seeing Ohio joining California as world-innovators in monitoring our worst pollution in America, and becoming less toxic in this increasingly toxic world, as a direct result:
Scientists map air pollution using corn grown in U.S. fields

New method uses plants to monitor carbon dioxide levels from fossil fuels

Irvine, Calif., January 22, 2007

Scientists at UC Irvine have mapped fossil fuel air pollution in the United States by analyzing corn collected from nearly 70 locations nationwide.

This novel way to measure carbon dioxide produced by burning coal, oil and natural gas will help atmospheric scientists better understand where pollution is located and how it mixes and moves in the air. Tracking fossil-fuel-emitted carbon dioxide will be important as countries throughout the world adhere to the Kyoto Protocol, an agreement among nations to reduce greenhouse gas emissions. The United States signed the protocol, but the treaty has not been ratified by the U.S. Senate.

"Many nations are facing increasing pressure to monitor and regulate the release of carbon dioxide from fossil fuel sources to limit greenhouse gas warming," said James Randerson, associate professor of Earth system science at UCI and co-author of the study. "This method can help determine how much fossil fuel carbon dioxide is coming from different regions."

The study appears Jan. 23 in Geophysical Research Letters.

Atmospheric scientists typically measure carbon dioxide by collecting air samples, but this is the first time fossil-fuel-emitted carbon dioxide has been mapped using plants. This new method may complement existing air sampling techniques because plants provide a cost-effective way to record average daytime conditions over several months. Plants take in carbon dioxide gas, from both background and fossil fuel sources, during photosynthesis, and it becomes part of the plant tissue.

In summer 2004, UCI scientists collected corn from farms and gardens in 31 states, including Hawaii and Alaska. They chose corn because it is widely grown and, as an annual plant, all of its carbon is derived from a single growing season. The scientists avoided pollution point sources such as highways and power plants to allow for mapping of regional patterns across different states. Back in the laboratory, the scientists dried samples of corn leaves and husks, then converted them to graphite using a series of chemical reactions. The graphite then was analyzed in the W.M. Keck Carbon Cycle Accelerator Mass Spectrometer, which measures a rare isotope of carbon, called radiocarbon. Carbon dioxide derived from fossil fuels contains no radiocarbon so it is easily distinguishable from other sources. With measurements from this machine, scientists calculated overall levels of carbon dioxide produced by fossil fuels at the location where the corn samples were collected.

California and the Ohio Valley had the most fossil-fuel-emitted carbon dioxide, while the Colorado region had the least. The scientists expected pollution from California and other western coastal states to drift east, but they found that the Rocky Mountains appeared to provide a barrier for the movement of carbon dioxide from fossil fuels.

Air in the Mountain West, including Colorado, Idaho and New Mexico, was the cleanest, with about 370 parts per million of carbon dioxide. Air in the Eastern United States, which includes Massachusetts, New Hampshire and New York, contained an additional 2.7 parts per million of carbon dioxide from fossil fuel sources. Air in Maryland, Ohio, Pennsylvania and West Virginia had nearly twice as much additional carbon dioxide from fossil fuels, 4.3 parts per million.

"We have to better understand emission patterns and changes in the atmosphere in order to better regulate fossil fuels," said Susan Trumbore, also a professor of Earth system science and co-author of the study. "This is a direct way to measure the release of carbon dioxide emissions that are contributing to climate warming."

Diana Hsueh was the lead author and conducted the research as a UCI undergraduate. UCI researchers John Southon and Xiaomei Xu also contributed to this study, along with Nir Krakauer from the California Institute of Technology. This research was funded by the National Science Foundation and NASA.

About the University of California, Irvine: The University of California, Irvine is a top-ranked university dedicated to research, scholarship and community service. Founded in 1965, UCI is among the fastest-growing University of California campuses, with more than 25,000 undergraduate and graduate students and about 1,800 faculty members. The second-largest employer in dynamic Orange County, UCI contributes an annual economic impact of $3.7 billion. For more UCI news, visit www.today.uci.edu [7].