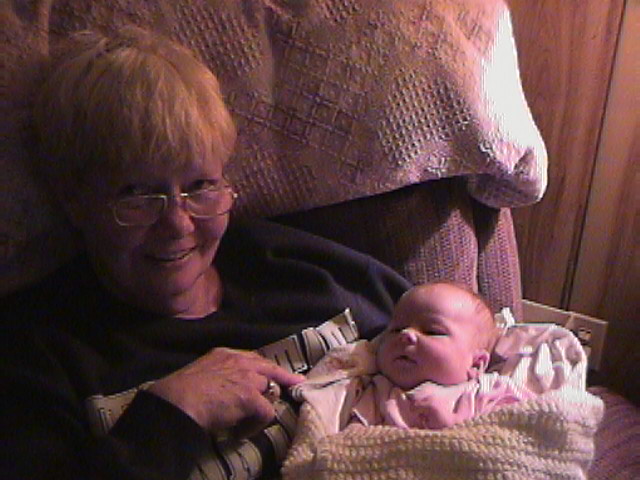 My mom's spirit never leaves me....with each sunrise and sunset, she is the sun & moon in my life... Reminders of her remain with me in every enchanting laugh I hear from my giggling child, in every Motown song on the radio, and with every crossword puzzle in the daily newspaper I see... Mom's love was so boundless and unconditional and forgiving that I have forever been blessed and know this to the depths of my soul.
I found out I was pregnant the week before Mother's Day 2001. My mother came in from out of town that Mother's Day weekend with spitfire in her blood to accomplish a list of to do's. She was barely in the door before she was sitting at my kitchen table shaking a bottle of hair dye which was one of her regular routines to cover her roots. While I had wanted to wait to tell her about the pregnancy; that bottle of hair dye in her hand sent me through the roof with anxieties. You see, I had gotten on the wonderful internet and learned all kinds of things about how "teratogens" cause birth defects and that bottle was full of them....
I was 26 years old and still in the military. I was working my life away with no time for anything in the middle and I had just returned from overseas. Life was good. This was supposed to be one of those Mother's Day visits where mom and I got to "go out" and have a good time for "Mother's Day" as two adult women. Mom was rearing to go and had smiles on her face that afternoon.
I was pacing and trying to think of how to distract her, stop her, or what to do to prevent her from opening that bottle. So, all of a sudden I said, "STOP! DON'T OPEN THAT BOTTLE..." She looked at me like I was crazy and politely asked "WHY?" with a dumbfounded look on her face... I replied, "um the smell of it gives me migraine headaches and I don't feel like having a headache right now." She said, "You're full of crap..." and went to open it and I had to stop her again by taking the bottle from her and putting it on the table... At this point, she knew something was up... and asked, "What the hell's wrong with you?" and glared at me like I was holding her up from getting out and having fun....
So, I took a walk in the other room, took a deep breath, and thought about how to explain this to her under the gun....I then went in the kitchen, kneeled down in front of her sitting in the chair and asked her..."Mom, if you could have anything under the sun for mother's day, what woud it be?" (You see, She had hit the point in life with me that she thought I was NEVER going to give her grandkids and she had almost lost hope by this stage of life with me on the entire subject matter...) She said, "a grandbaby from you" in a silent but serious tone... with a questionable look in her eyes...and I told her "Yep"....
Do you know she started laughing, saying I was full of crap, and went to open that bottle up anyway? She thought it was a practical joke!!! I had to stop her again and go get the 3 positive pregnancy tests to prove it to her...trust me, I wasn't the one she ever expected grandkids from....when it finally hit her....she cried tears of joy, jumped up out of her seat and picked me up off the floor hugging me! She was the happiest mom in the whole world that moment and I cannot explain it any other way... Somehow, I gave her more that Mother's Day than I could have ever hoped to give her in a lifetime.
From that moment until the day she died in June 2006; she dedicated her life to her grandchildren... She had already been doing that prior to this point, but I really noticed it after that day... Mom was the best. She worked to make my motherhood the best it could be with all she had. While I wanted to do my own things as a mother; like picking out the nursery stuff, buying baby clothes, and so forth---mom was hot on it. By the time my baby was born she had enough stuff to get her into her third year of life without ever having to need anything. When I went into labor it was almost midnight on New Year's day and I called my mom who lived 2 hours away...
By the time I had taken a bath, loaded the car, and worked through the huge snow storm that practically had the highway to the hospital near Kamm's corner at zero visibility, my mom was walking through the doors.... She had just put that lead foot to the floor and practically flew to be by my side during labor.... She and my daughter's father each grabbed my knees as the doctor told me to push...and the looks on their faces were priceless when the doctor cut me for her to come out. (I never felt a thing! Smiles). My mom sat there that day and documented the entire labor and delivery on little papers and little details for my baby's baby book... such a priceless treasure.
For the next four and half years, my mother spoiled my daughter rotten with love, gifts, and Grandma's love. My mom absolutely gave my daughter everything in her soul through those years. My mother made up for any mistakes as a mother to me through my child ten fold and I watched it unfold at every corner. My mother delighted in everything "Grandma" til the day she died. She baked cakes, sung songs, read books, danced, and endearingly loved far beyond words every moment of being a grandma to my child... She had done this for her other grandchildren, but it was so much more personal and amazing to watch her with my own child... I recall Grandma showing up with princess dresses, having tea parties, and talking to my daughter on the phone for hours. If my child wanted to see her grandma, she'd call her and boom, 2 hours later Grandma was pounding on the door...saying, I am here to pick up my granddaughter... It was a treasure to watch, listen, and delight in her amazing happiness with being a grandma to my child. I cannot put it any other way.
My mom and I used to have long talks during her visits. The last week of her life, she spent in my home. She was going to take my daughter home with her for the summer and I was to join them in 10 days. My daughter found her dead the next morning. Life has forever been changed with her physical absence, but forever touched by her amazing existence.
I don't have enough words to explain what it's like watching your mother share so much of herself in her grandchildren. My mother was supposed to bake a cake with my daughter the day she died. Today, my daughter made a cake for me for mother's day by herself... While her experimental mixture might be inedible, my quiet thoughts of my mother coming out through my daughter make me appreciate her all the more.
The last few years we have become friends with some amazing ladies by and through REALNEO...We have adopted new family members and enjoyed sharing our life with them... They have made motherhood a lot more blissful in the absence of my mom... and I am forever grateful that God brought them into our world! Thank you so much ladies for all that we share in this world that makes life in Cleveland fun and interesting....(yes, that includes you too, GUY!) Happy Mother's Day to all of the Caring people who "mother" other people at all levels! You are very special too!