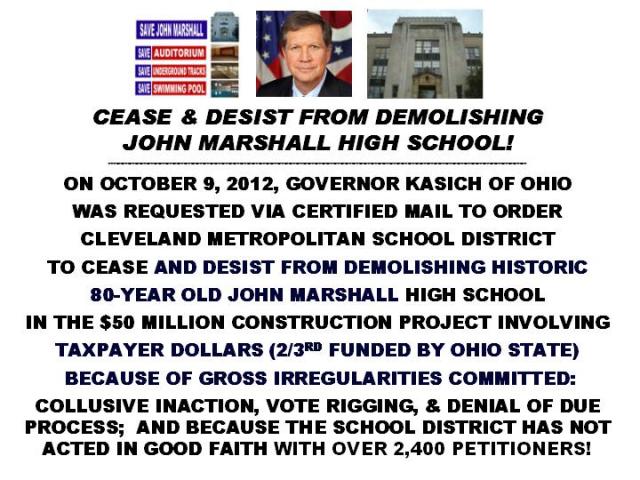 CEASE AND DESIST ORDER!
ON OCTOBER 9, 2012, GOVERNOR KASICH WAS REQUESTED VIA CERTIFIED MAIL TO PLEASE:
DIRECT OSFC (OHIO STATE FACILITIES COMMISSION) TO
ORDER CMSD (CLEVELAND METROPOLITAN SCHOOL DISTRICT)
TO CEASE AND DESIST FROM DEMOLISHING HISTORIC 80-YEAR OLD JOHN MARSHALL HIGH SCHOOL (LOCATED IN CLEVELAND, OHIO) IN THE $50 MILLION CONSTRUCTION PROJECT INVOLVING
TAXPAYER DOLLARS BECAUSE OF GROSS IRREGULARITIES COMMITTED:
COLLUSIVE INACTION, VOTE RIGGING, & DENIAL OF DUE PROCESS; AND
BECAUSE THE SCHOOL DISTRICT HAS NOT ACTED IN GOOD FAITH
WITH OVER 2,400 PETITIONERS WHO WANT TO SAVE JOHN MARSHALL
BY RENOVATING THE HIGH SCHOOL INCLUDING THE AUDITORIUM,
UNDERGROUND RUNNING TRACKS, AND THE SWIMMING POOL!
THE CEASE AND DESIST ORDER SHOULD STAY IN PLACE UNTIL ALL IRREGULARITIES – COLLUSIVE INACTION, VOTE RIGGING, & DENIAL OF DUE PROCESS HAVE BEEN ADDRESSED & RESOLVED!
The 32-page letter was dated October 8, 2012 and was mailed on October 9 because Monday was a legal holiday.
Supporting documentation – totaling over 250 pages was included in the package.
Gov. Kasich was asked to provide a response via certified mail A.S.A.P. considering the urgency of the matter.