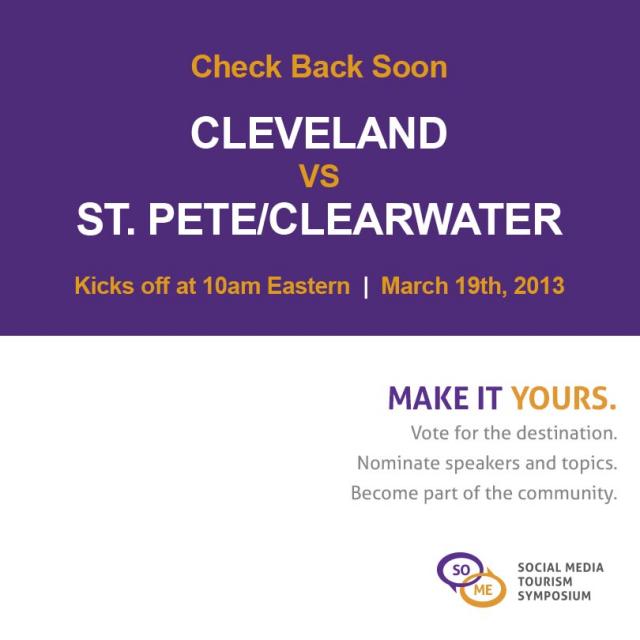 has ended and we're in! Nice work ! Round 2 is Tuesday March 19 10am-10pm.
A symposium where tourism meets social media
Social media have transformed the way we live, travel and communicate. For the tourism industry, this has created tremendous opportunity to connect with travellers in a personal and engaging way. If you work in tourism or are simply a tourism geek, then the #SoMeT13AU [5] and #SoMeT13US [6] conferences are for you!
Presented by Think! Social Media [7], an agency passionate about tourism marketing, the 2013 Social Media Tourism Symposia are the only conferences of their kind. SoMeT, as the community calls it, provides an opportunity for destination marketing organizations, hotels, resorts, attractions and any other tourism-related entities to share ideas and learn how to leverage social media within the tourism industry. The conferences are inherently social, enabling participants to connect with hundreds of professionals from across the tourism industry. Come, connect, share and learn!
Links:
[1] http://li326-157.members.linode.com/content/socialmediadestinationjpg
[2] https://twitter.com/search?q=%23SoMeT13US&src=hash
[3] https://twitter.com/search?q=%23CLE&src=hash
[4] https://www.facebook.com/SoMeTourism
[5] http://au.sometourism.com/
[6] http://us.sometourism.com/
[7] http://thinksocialmedia.com/
[8] http://www.sometourism.com/