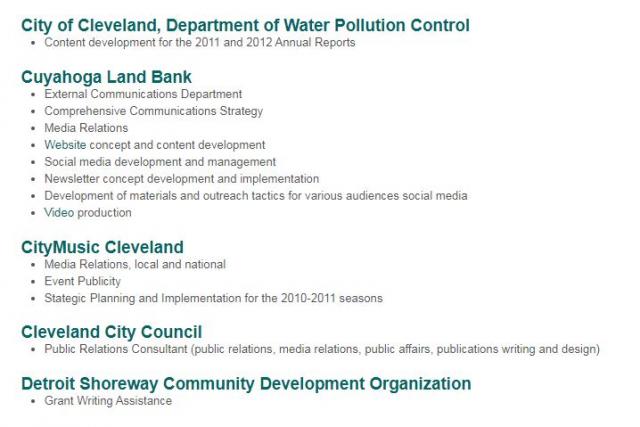 On Monday, November 12, 2018, 12:45:32 PM EST, Laura McShane wrote:
Hi Cory,
Would be interested in your dissection of current Ken Johnson investigation.
Eric contends that no laws have been broken:
Johnson calls Naymik's stories "fake news" and ain't resigning

AdvanceOhio political consultant and cleveland.com blogger Mark Naymik is being ripped by Ward 4 Councilman Kenn...
however, I believe that another councilperson - Tony Brancatelli does warrant an investigation for contracts secured by his wife's company/employer Hatha Communications.
Can you verify whether Cleveland.com has opened an investigation into any current Cleveland city council person??
Cleveland.com began its investigation in the wake of accusations from Cimperman's election opponent at the time, Carrie Kurutz, who claimed the incumbent had voted numerous times to approve contracts with LAND Studio and with its predecessor, ParkWorks, despite the fact that his wife, had worked for one or the other since 1996.
According to court documents, Cimperman penned two resolutions in 2008 and 2009 that championed ParkWorks' applications for about $2 million in grants through the Clean Ohio Fund. The company sought the grants to acquire two parcels and a portion of a former railway to build a trail and green corridor connecting the Towpath Trail to the Lake Erie shoreline at Whiskey Island.
Former downtown Cleveland City Councilman Joe Cimperman charged in Ohio ...

Former Cleveland City Councilman Joe Cimperman was charged Wednesday with 26 misdemeanors related to his involve...
Joe's felony convictions were reduced to misdemeanors
And to Eric Brewer's point: [6]
https://www.clevescene.com/scene-and-heard/archives/2018/04/25/former-city-councilman-joe-cimperman-charged-with-26-misdemeanors [7]
Scene magazine's coverage relative to the cover story on Ken Johnson.