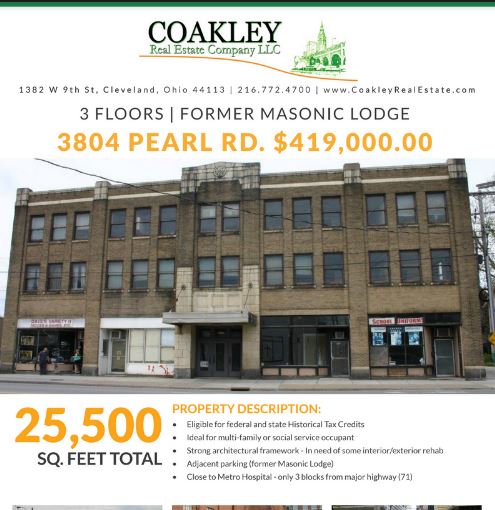 Hello Councilwoman Santana,
You asked me to mail the parcel numbers for the properties owned by Ginmark/aka White Gold. Here are the parcels and the delinquent taxes on the properties:
Parcel Number, Deeded Owner, Address, City, State, Zip Code
015-25-027,"WHITE GOLD PROPERTY MANAGEMENT, LLC","3780 W 25 ST",CLEVELAND, OH,44109

$5,356.12
015-25-028,"WHITE GOLD PROPERTY MANAGEMENT, LLC","3784 W 25 ST",CLEVELAND, OH,44109
$19,601.46
015-25-031,"WHITE GOLD PROPERTY MANAGEMENT, LLC","3804 PEARL RD",CLEVELAND, OH,44109
$76,535.05
As you know - Joe Pagonakis recently helped a senior resident who has been living next to a vacant house 015-19-129 3310 Virginia w/unpaid $19,584.05 property taxes.
This pattern of unpaid taxes and blight was also the precursor to the eventual transfer of the YMCA building on W 25 to the Cuyahoga County Land Bank, which wited out $118K in unpaid taxes, and then transfered to Cleveland Housing Network. It has also been the pattern to wipe out these tax liens as with 3025 W 25th St. $20,813.73 wited out.

I am calling these properties to your attention and to the attention of Cuyahoga County Council rep Dan Brady--to help residents avoid the same wait-and-see nightmare we have endured time-and-time again with these properties.
And, as it stands, there is still the highly suspicious transfer of 3873 W. 25th to the Cleveland Housing Network - an industrial property that WAS NOT condemned and was demolished by the Cuyahoga County Land Bank at taxpayer expense. Taxpayers will never recoup the loss of tax revenue and costs for asbestos remediation and demolition on these properties.
I am asking your office to push for accountability with the Ginmark/White Gold properties. This outfit was also investigated by Joe Pagonakis, because Ginmark operated as a demolition contractor for the Cuyahoga County Land Bank, while delinquent on the properties on W. 25th St.
Sincerely,
Laura McShane