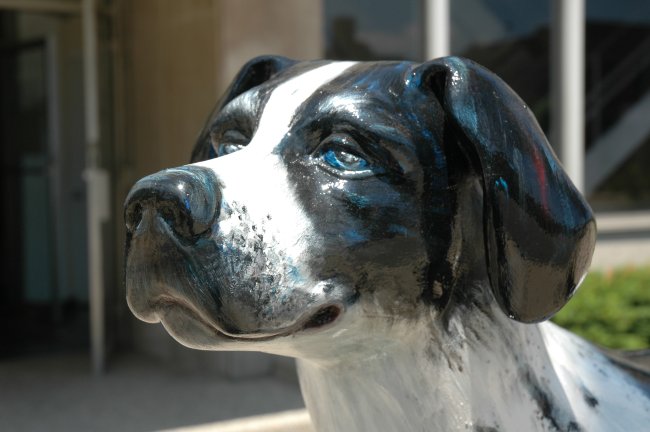 This sweet dog from the Cleveland Goes To The Dogs project [1] has been named Oreo by its temporary hosts... where is this [2]...


I love the dogs. Great idea and great work by the artists. Sad to hear, it seems some of the dogs have been stolen... and I don't see any good documentation of any aspect of the project anywhere online - I'd like to do a better job photographing them in place on REALNEO... here's one I stumbled across on St. Clair...
see location and full view below
... other are linked in this book and we'll post more.
Time is fleeting to see the dogs and some are now gone... anyone else like this project and the work - have a favorite? Tell me where some are located and I'll get a picture and post it for the record - I'll try to find more, but I don't know where to look.
Links:
[1] http://li326-157.members.linode.com/public-sculpture-goes-to-the-dogs-this-summer
[2] http://li326-157.members.linode.com/node/2635
[3] http://li326-157.members.linode.com/system/files/DogOreo650.JPG
[4] http://li326-157.members.linode.com/system/files/DogsOreo2.JPG
[5] http://li326-157.members.linode.com/system/files/DogsOreo3.JPG
[6] http://li326-157.members.linode.com/system/files/DogsOreo4.JPG
[7] http://li326-157.members.linode.com/image/finally-going-to-the-dogs-is-good-for-cleveland
[8] http://li326-157.members.linode.com/have-you-seen-the-dogs