The city of East Cleveland, "Home of the World's First Billionaire [1]", John D. Rockefeller, is the first and historically the finest residential neighborhood of Cleveland. Still having remarkable historic landmark building stock, the city was a victim of "white flight", in the 1960's-1990's, that is just now seeing an enlightened, progressive correction, driven by good government, largely intact historic assests, like the Star complex, and optimal proximity to the best Northeast Ohio has to offer. It has always been desirable for close, convenient access to the core economy of Cleveland, the cultural and enlightenment "garden" of University Circle, rail and public transit everywhere, and nearness to and fresh breezes from Lake Erie. As the economy shifts to a new economy, focused on livable urban neighborhoods with great public transil and walkable assets, East Cleveland is at the Heart of it all, and the Star Complex is at the heart of that enlightened new urban movement.
Learn more about what that means for development of the Star below [2].
As shown above, East Cleveland could not be better located for progressive living. Far from the smokestackes and pollution of Cleveland's industrial valley, adjoining "The World's Most Powerful Learning Environment", and nearly 50% park and greenspace, this is a community poised for immediate and, eternal greatness. This represents a significant paradigm shift for the community and region, for many decades centered around suburban and exurban sprawl. East Cleveland is anti-sprawl perfection, with optimal livability and remarkable value, until the "gentrification" hits. The Star Complex is ideally located in this invironment and context, right now - near to all that matters in the region, but long-standing as a dynamic cultural place with well-rounded, intimate, unique neighborhoods within a small-town of only around 3 square miles, in and of iteslf.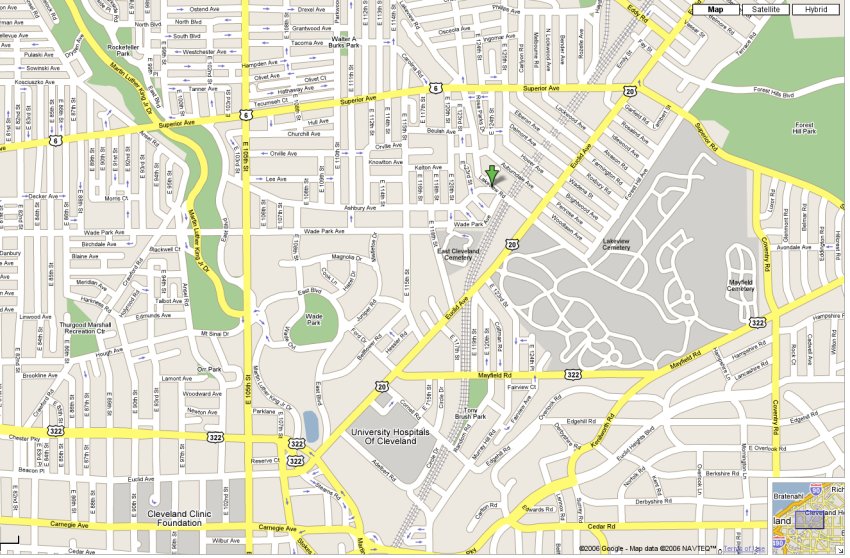 The Star Complex has a unique location abutting and viewing the CSX and RTA railway foundations, one block from the Euclid Corridor, the most important street in Northeast Ohio, with direct communter rail and bus access to downtown Cleveland, the airport and all places NEO, fronting on Lakeview Road, which has the best road access to the I-90 Interstate freeway in the area, a few blocks from the center of world-renowned educational and cultural nexus University Circle, a few blocks from world's best hospitals Huron, University and the Cleveland Clinic, in close proximity to the region's most desirable residential neighborhoods, surrounded by parks, green spaces and important historic properties.