School design has been on my mind. Here is a thumbnail of an almost perfect Cleveland school. Benjamin Franklin School slated for demolition in the CMSD Facilities Plan. It also has beautiful adjacent gardens. [1]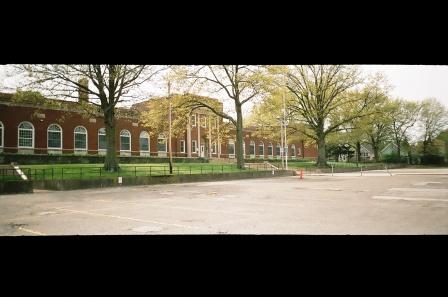 I recently received a copy of Ouroboros [2], the magazine that chronicles winners of the Goldman Environmental Prize. The Sidwell School [3]in Washington DC has been recognized this year. Also, see GreenCityBlueLake for a recent post on Green Schools. [4] Today, I was impressed by Harrison Elementary [5]in Lakewood's walk-friendly Birdtown.
My question for any school retrofit would be:
How can we get kids to go back to walking to school?

Back to Benjamin Franklin (how ironic) a school that already has kids who walk to school.

Solar power proponent spreads the light
April 8: "Making a Difference": How one 14-year-old Australian boy managed to persuade both his parents and his high school that they should embrace solar power. NBC's Ian Williams reports.
Links:
[1] http://realneo.us/system/files/FranklinGardens.jpg
[2] http://www.goldmanprize.org/theprize/ouroboros_newsletter
[3] http://www.csmonitor.com/2008/0311/p18s03-hfks.html?page=1
[4] http://www.gcbl.org/blog/marc-lefkowitz/greening-ohios-schools
[5] http://www.lakewoodcityschools.org/school_home.aspx?schoolid=6
[6] http://www.msnbc.msn.com/id/3032493/
[7] http://li326-157.members.linode.com/system/files/IMG_0248.JPG
[8] http://li326-157.members.linode.com/system/files/IMG_0249.JPG
[9] http://li326-157.members.linode.com/system/files/IMG_0250.JPG
[10] http://li326-157.members.linode.com/system/files/IMG_0251.JPG
[11] http://li326-157.members.linode.com/system/files/IMG_0252.JPG
[12] http://li326-157.members.linode.com/system/files/IMG_0253.JPG
[13] http://li326-157.members.linode.com/system/files/BenjaminFranklinSchool.jpg
[14] http://li326-157.members.linode.com/system/files/FranklinGardens.jpg