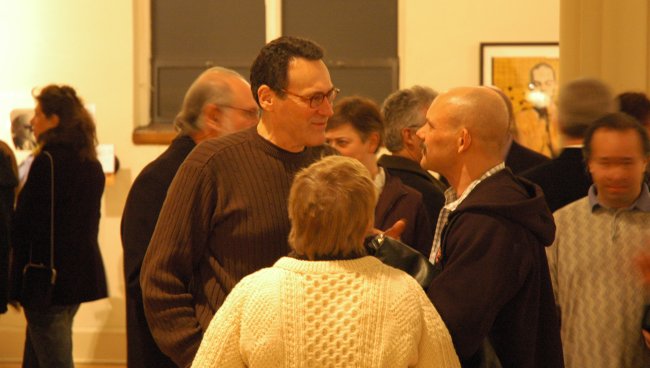 Cleveland film-maker Thomas Ball created The Beauty of Damage for
the national traveling exhibition of artwork by Cleveland artist Christopher Pekoc [1]. Pekoc has taught for over 20 years at Case Western Reserve University and achieved national acclaim for his provocative mixed-media works.
This Work in Progress event is not only a celebration of Chris Pekoc's work, but an invitation to think more broadly about film as a compelling medium of communication. Film has evolved to become a more versatile and powerful tool of communication than ever before. Whereas, once films could only be screened in a theater or a classroom, now they can be displayed through television, DVD, and websites. Today, one person with a powerful computer can produce effects that a few years ago would have required hundreds of technicians and a large, well-equipped studio.
The screening of the 18-minute film is followed by an open discussion with Chris Pekoc; Bernie Sokolowski, who did the animation; and Henry Adams, who worked on the project with Tom Ball as co-producer and co-scriptwriter. They'll discuss the process of creating the film from its first inception through various stages of fundraising, script-writing, research, filming, crafting the sound track, and editing.
A reception follows the program.
Baker-Nord Center for the Humanities Work in Progress Event - The Beauty of Damage: A Film on the Art of Christopher Pekoc, by Thomas Ball
Admission: Free.
Please RSVP by calling (216)368-8961 or via email to
mcm5 [at] case [dot] edu.
The Cleveland Museum of Art, Lecture Hall
11150 East Blvd
Cleveland
,
OH
44106
United States