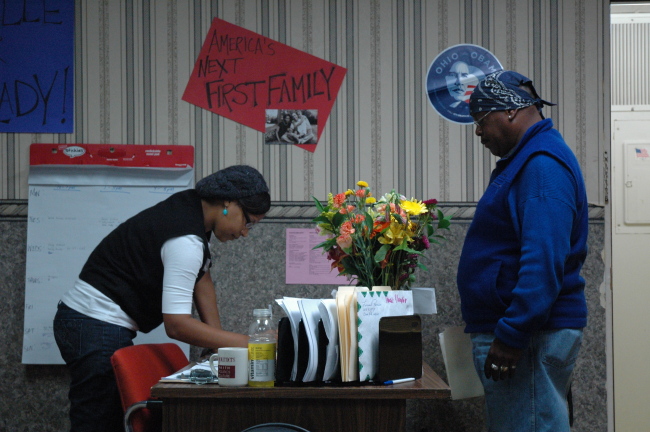 Please come and help out or donate. EAST
CLEVELAND now has a small NEW Barack Obama Field office. It is on
Euclid at Roselynn, in the Solar Building (one block west of Superior).
It is across the street from Popeyes Chicken and next door to
SnickerFritz, the art house and music studio on Euclid. Entrance and
parking is in the back. You will have to ring the door bell at the back
door to get in.
There was an excellent turn out at the open house this past Sunday. A surprisingly good one especially for East Cleveland.
But the East Cleveland Obama Field office needs your help and support.
FIRST and FOREMOST, they need active working volunteers to work phone banks, update databases, and help canvas.
Second, there are items that the office is in dire need of - General office supplies - things like
scotch tape,
packing tape,
poster board,
CLIP BOARDS,
permanent markers of all sizes, colors and shapes,
scissors,
tape measures,
LEGAL PADS,
folding tables,
SNACKS (bottled water, granola bars, nuts, etc.)
a Mini-Frig,
FILE CABINET,
Organizational tools,
DRY ERASE BOARD
Dry Erase markers and Erasers
a small love seat and/or a BIG BEAN BAG,
paper towels and TP
a small radio or tape deck or CD player or some kind of music system. Something small.
And fresh flowers don't hurt
For more info., contact Jessica Byrd, EC Obama Field Office Manager. (216) 926-9276
A plan is underway to hopefully have a "barbeque" and voter
registration event in the parking lot of the East Cleveland Obama field
office this coming Sunday, Oct. 5th, but more has to be determined. But
keep your eyes and ears open for more events and more opportunities to
participate.
P.S. - If you want a yard sign, you have to do something to get one.
Make a donation, bring stuff, BRING PEOPLE to work, you work i.e.
canvass, make phone calls, etc.