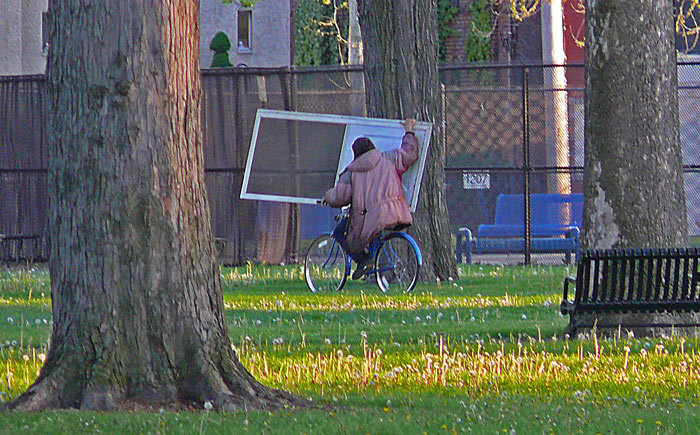 One of the things I remember my dad telling me about photography is that two conditions lead to forceful photographs: taking photographs in the rain with wet reflections, and taking photographs in early morning or late evening
contre jour
lighting.
In Cleveland, many have little alternative than to lead their lives "against the light".
As I was talking with friends in a park this afternoon, I saw a fellow ride by on his bike. The front apron of the fellow's coat was grimy - hadn't been washed in a while. Homeless I thought….
A few minutes later I took the photo full of dandelions above. Oh, and did I mention the guy on his bicycle riding with no hands and steering with an aluminum door? )anyone missing a 6' 8" X 32" aluminum screened door?(
I'll bet the door was for dinner.
When will we see the light in NEO, and do "economic development" by helping those on the bottom, rather than Chris Kennedy, Mr. Jacobs, and Mr. Ratner?