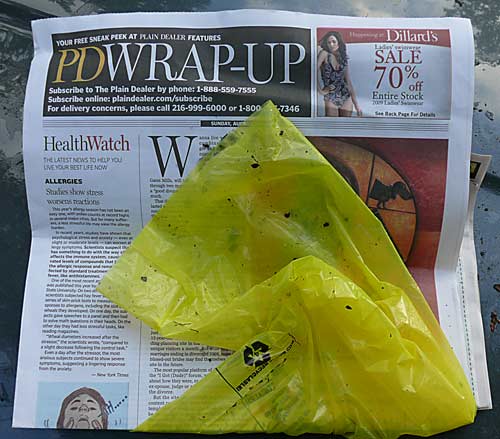 Every Sunday for the past several months the Plain Dirty Dealer litters neighborhood driveways with throw away advertizing fliers.
This junk isn't delivered by US mail, and in fact is just thrown in your driveway, on the driveway apron, your lawn, or your tree lawn.
Why isn't this unwanted, un-requested eyesore LITTER? It certainly isn't news.
Where is the law which allows the Dirty Dealer to send a car up and down streets late at night and fling ad crap all over town? Causing every resident to have to pick it up to throw it away.
There is a second problem which results from trash on the tree lawn: when you don't pick it up, every passer-by knows you are probably out of town – on vacation. If you leave for eight days, there are two brightly wrapped indicators of absence.
A little orange or yellow flag marking your home as more vulnerable to robbery.
The Dirty Dealer's uninvited litter is a real nuisance.