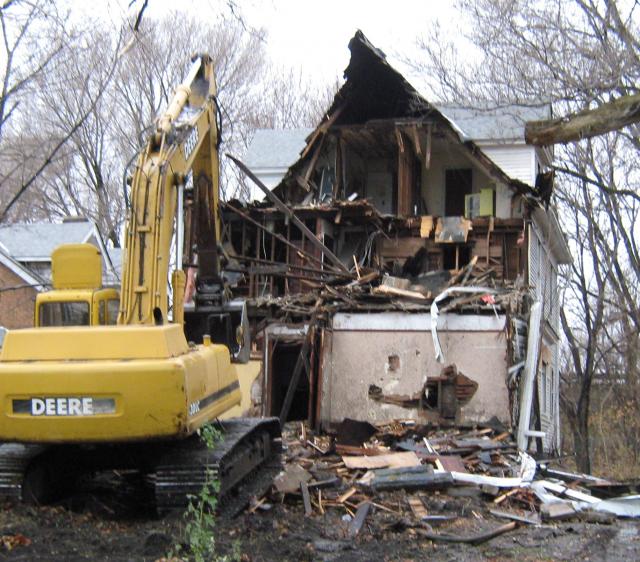 WILL YOU BE THE NEXT FRANK GIGLIO IN TREMONT?
WILL YOUR HOUSE BE NEXT IN LINE TO BE SMASHED TO SMITHERINES? ARE YOU SIGHTED FOR BLIGHTHOOD?
IF THE NEW PROPOSED CHANGES TO THE CHARTER AND BY-LAWS ARE PASSED THIS COULD EASILY BE YOUR HOUSE. THOSE SITTING AT THE TABLE OF THE BY-LAW COMMITTEE WHICH ALSO INCLUDE MAGISTRATE LYNN MURRAY AND CITY COUNCIL EMPLOYEE KATHERINE BULAVA, TWO CITY PAID EMPLOYEES AND CAROL HEYWARD, A PROFESSOR FROM CLEVELAND STATE (CLEARLY NPI FUNDER ORIENTED) AND OTHERS HAVE CONSTRUCTED PROPOSED CHANGES TO THE CHARTER THAT HAVE NO QUALMS IN SACRIFICING THE POOR TO THE GREATER GOOD OF THE WELL TO DO.
THESE CHANGES STATE THAT TREMONT WEST DEVELOPMENT CORP. WILL TAKE CONTROL OF AND AGRESSIVELY COMBAT DETERIORATING BLIGHTING AREAS. REMEMBER FOLKS, IT DOES NOT TAKE MUCH TO CALL A HOUSE BLIGHTED.
THE PROPOSED CHANGES WILL PUT TREMONT WEST AND THOSE INSIDE IN CONTROL OF OUR ENITRE EXISTENCE IN THIS COMMUNITY AND WE MUST SAY NO.
WE MUST STOP THIS ORGANIZATION FROM TAKING CONTROL OF OUR HOMES, OUR PROPERTY, OUR RIGHTS TO PARTICIPATE IN COMMUNITY DEVELOPMENT AND RIGHTS TO PARTICIPATE TO HAVE A SAY IN WHAT HAPPENS IN OUR NEIGHBORHOOD.
I AM TRYING TO COPY THE CHANGES FOR POSTING ON NEO AND AS SOON AS MANAGE TO GET THIS ACCOMPLISHED I WILL PUT IT OUT FOR ALL TO READ.