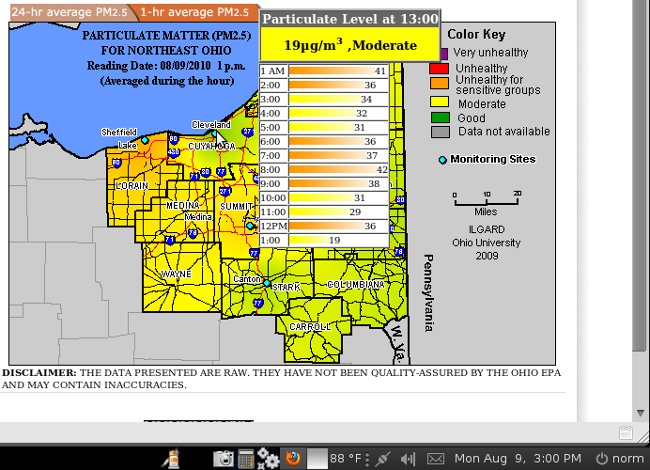 Good Afternoon real NEO - Cleveland has been fucked all day - Sheffield is worst now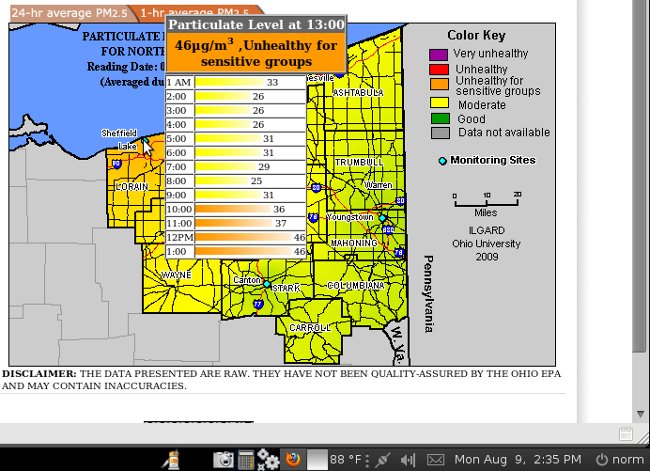 Sheffield Lake is fucked - and the wind from Cleveland isn't blowing their way... so you know Cleveland was really blasting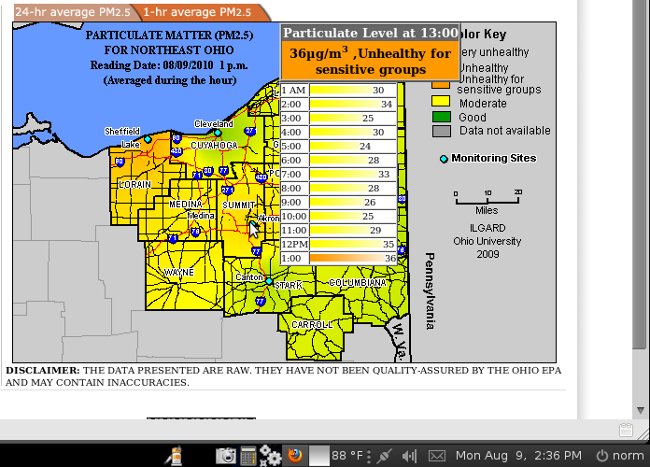 Akron is fucked - the wind from Cleveland is blowing our pollution on them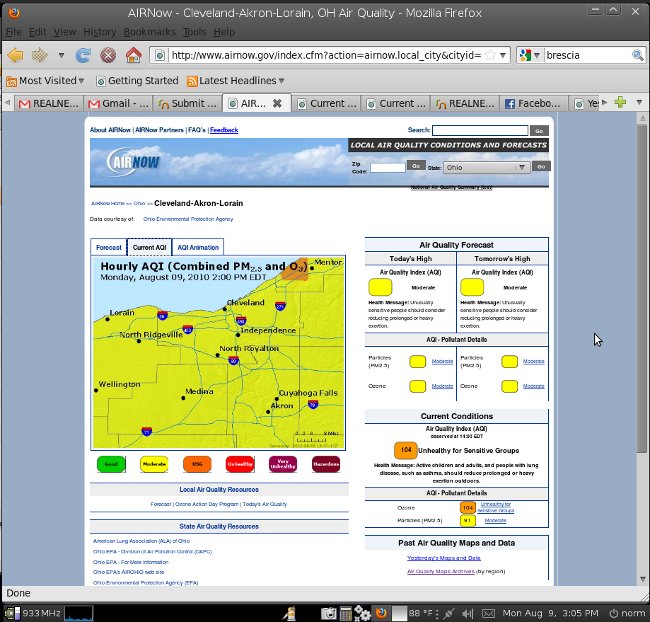 The Ohio EPA is hidding all these facts in their charts, but the fact we are unsafe shows through in our current conditions
Ozone 104 - PM 2,5 91 - Unsafe for Sensitive Groups at best away from Mittal and other Source Point Polluters causing this
and that should be reflected in this chart as it was this morning [1] (which is being hidden by the OHIO EPA right now)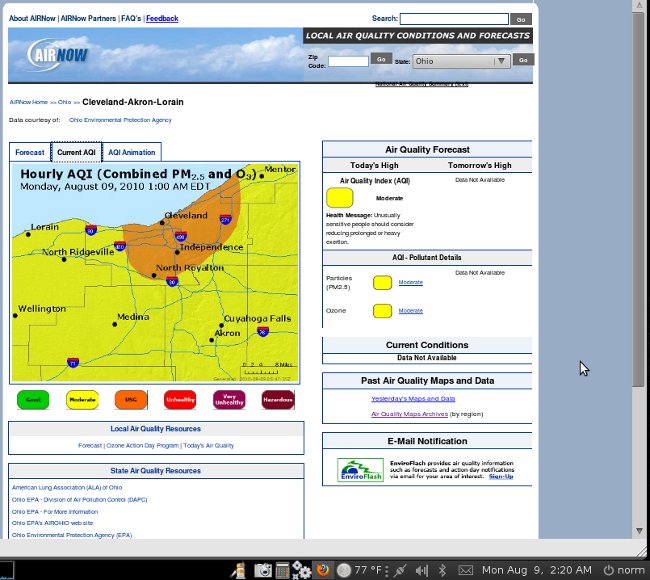 This snuck through the OHIO EPA data cleansing and hidding process because everyone else was asleep at 2:20 am... but me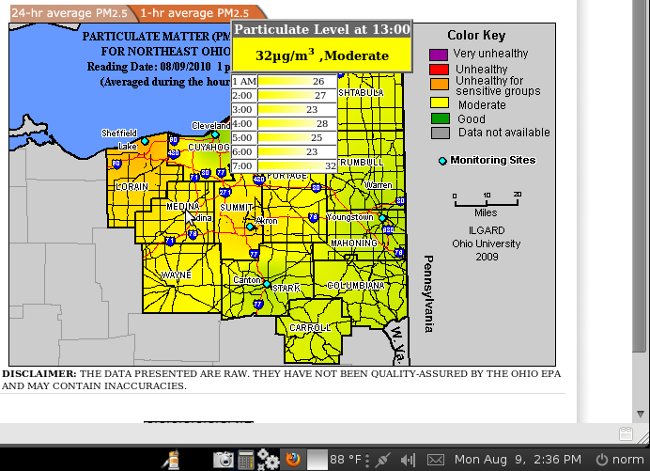 Medina... poor Medina... the EPA thinks you are too worthless to know the truth - your air pollution data is ALWAYS BROKEN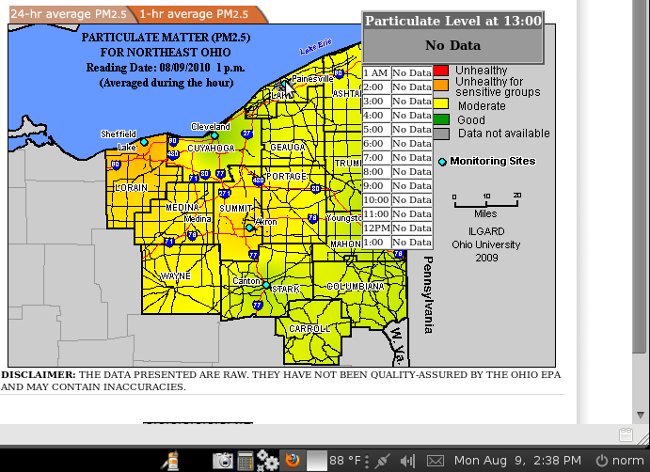 Painesville... poor Painesville... the EPA thinks you are too worthless to know the truth - your air pollution data is ALWAYS BROKEN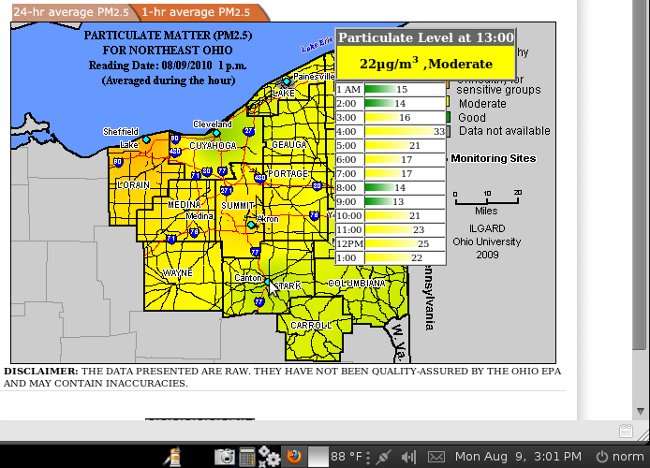 Canton... here comes our smog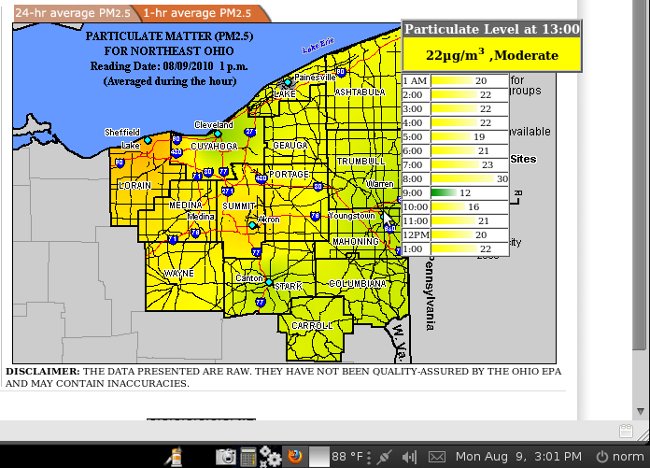 Youngstown... why even bother trying... it ain't you that is the problem, it is Cleveland. Just give up and leave.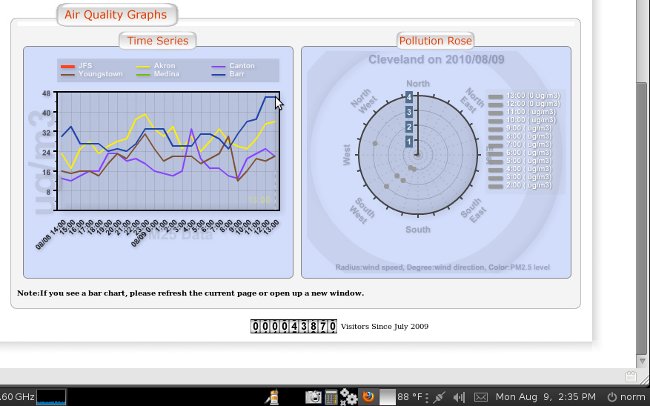 NOACA and the Ohio EPA actually consider all 2.5 million people in Northeast Ohio and the millions more people in our air currents too worthless to know the truth and live, as the charts above show that while citizens are suffering excessive pollution the monitoring of that is intentionally broken and incorrect - has been forever, in technical terms - making it IMPOSSIBLE for us to protect ourselves from the harm caused, other than by moving from the region, as my family is doing immediately.
Why do any of you citizens harmed by this put up with this - it costs us $ trillions and 1,000,000s of lifeyears, and benefits nobody but shareholders in polluting corporations. If you believe that is good, you deserve the consequences.
Your children don't know better and do not deserve you harming them, though, and you should ship them away.