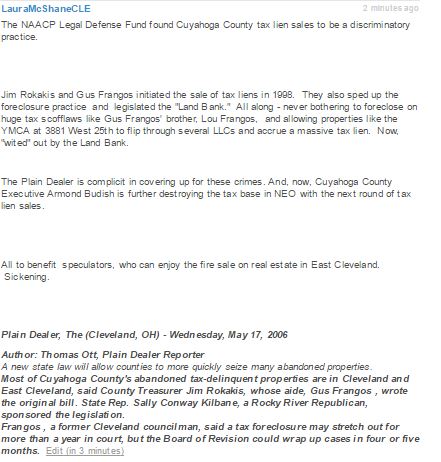 The Aug. 16 front page story, "Abandoned homes dot the area [2]," may have contained as much hot air as the housing bubble.
The problem is severe. Now we have public and non-government entities dedicated to the problem. A fortune in tax dollars spent. The solution is a knee-jerk reaction of aggressive demolition that will erase vacant homes from view. The cure may be worse than the ailment. Property held in the land bank does not contribute to the tax base. The current vision is as empty as the vacant lots.
The solution must be as big and important as our county. Include a plan that will create value. We have an opportunity to recreate much of our housing stock. Changing Levitt town grids into conservation sub divisions, daylighting creeks, encourage deconstruction over demolition, subsidize buildings with solar, wind, and geothermal utilities. This has to be done on a scale that brings back population lost to quality, interesting locations and value.
Our leadership is missing out on an opportunity to create new opportunity in Cuyahoga County. The current path is to watch our tax base follow the Lightning Demolition excavator into the basement cavity of where your neighbor used to live.
Patrick Delaney,
Euclid City Council, Ward 6
Patrick McLaughlin,
Euclid City Council, Ward 5